Hold on there! Refinish a vintage Gibson? In candy apple red?? There better be a darn good reason to do something like that… and there was.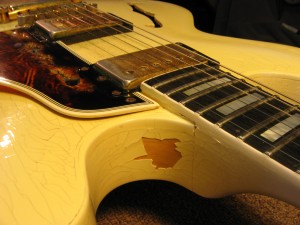 As mentioned in previous posts, the guitar repairman's rule of thumb with vintage instruments is to leave it in as close to original condition as possible while still maintaining its playability. In the case of this 1960's Gibson ES-355TDC, a couple of previous repairs have left it far from its original condition. When it arrived, the most obvious change was that it had been painted white years earlier and that white finish was flaking off in big chunks. A little closer look revealed a headstock repair the likes of which we've never seen. Throw in some long ago water damage, cracks in the body, and stains in the wood and the vintage value of the guitar is pretty well gone. You may as well paint it blue; or as the owner of this guitar decided, candy apple red.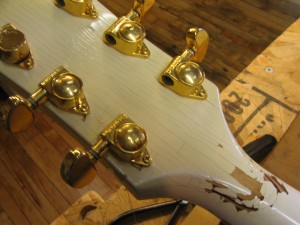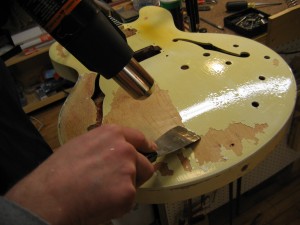 Our original plan with this guitar was to strip off the old white paint and restore it to as close to original condition as possible – meaning refinish it in its original translucent cherry red color. But once the flaking paint was off, we saw that the headstock had been entirely rebuilt, with the new headstock made, curiously enough, out of plywood. There were also a great number of cracks in the surface layer of the laminated body. These cracks were likely the result of extensive water damage and could be the reason it was originally refinished.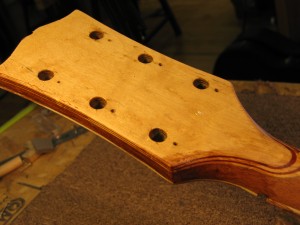 The body cracks and flaws would be visible through any transparent color. We know because we tried it, even darkening the red color to try to hide the cracks. It just didn't look very good.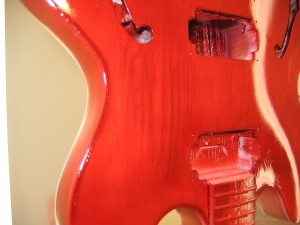 So the owner called an audible and told us he'd just as soon have us paint it something flashier – candy apple red and while we were at it, could we add binding to the F holes. It was an unexpected color request, particularly since Gibsons were rarely finished in candy apple red, but one we felt was not out of line given the condition of the guitar. He loves the way this guitar plays and decided he wanted to love the way it looked too.
We began the new work by gluing white binding to the inside of the F holes. This guitar didn't have binding , but plenty of other old Gibsons do, so it didn't look out of place. It's tricky and sticky work that takes time and patience.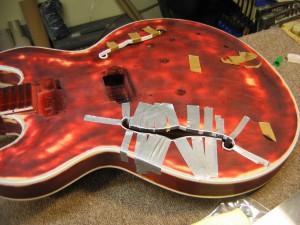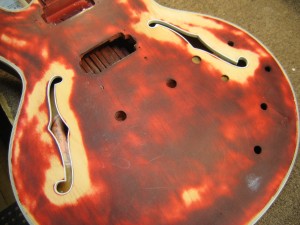 Once the binding is in place we can sand the F hole areas level. Next we add a coat of white primer/sealer…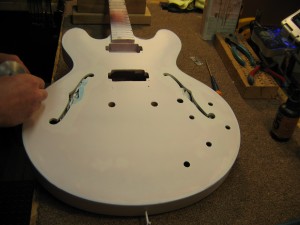 …and a couple coats of the sparkly candy apple red.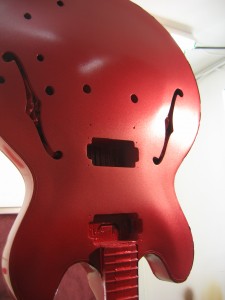 Before spraying clear top coats, Dan has to clean the red paint off the body binding and the black paint off the headstock and Gibson logo.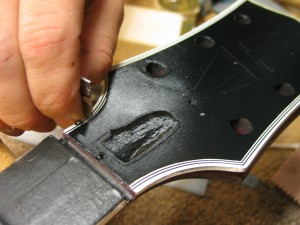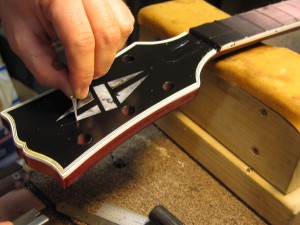 Next it's time to top the finish with clear nitrocellulose lacquer. To get the finish smooth and glassy in appearance, Dan has to wet sand the clear top coats up to 1200 grit sandpaper before buffing out the whole guitar (hence the hazy appearance in this shot.)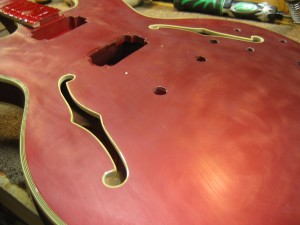 Before final buffing, Steve carefully threads all the electronics back into place. On a hollow body guitar like this there is no easily accessed control cavity (like the back of  a Les Paul) or pick guard (like a Stratocaster) on which to mount the pots and jack. They have to be pulled through the pickup hole using fingers, dental floss, surgical tubing, or all of the above. It's kind of like building a ship in a bottle.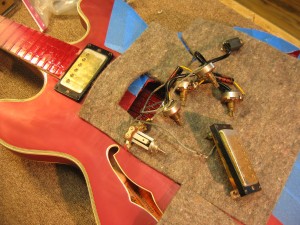 Then, once the pieces are back in place, Dan buffs out the entire guitar.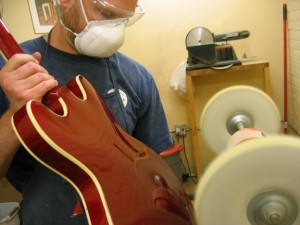 Finally, we install  the hardware and a new pick guard to replace the crumbling and decaying original one you saw in the first picture. A fresh set of strings and this red rocket is ready to roar.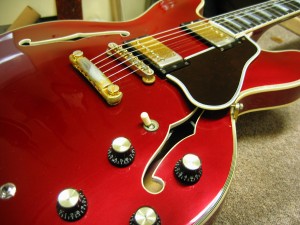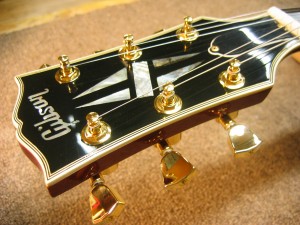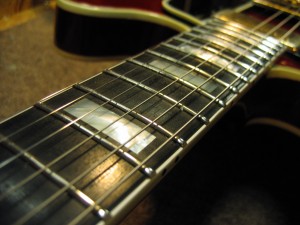 Oh, yea, and Dan refretted this guitar too. He worked so fast I couldn't get pictures of him working! We'll cover that subject in a future Workbench post.