Seizing the lead in our long-distance-traveler competition, this Vintage Gibson Mandolin arrived from South Africa in desperate need of a good refret.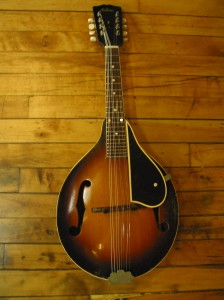 We were more than a little surprised to learn that  this 1930's era Gibson A Style mandolin (which was built a mere 100 miles away in Kalamazoo, MI) traveled more than 8,000 miles to get here from South Africa. Unfortunately, the instrument repair options there must be pretty thin, as it had one of the strangest looking attempts at fretwork we've ever seen. We cleaned it up and gave it a proper refret along with a new set of tuning buttons for the original tuners. Take a look.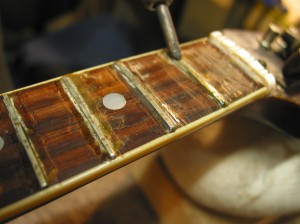 The previous repairman may have not had access to replacement fret wire or maybe just didn't know what he was doing. Regardless, the fretboard was in bad shape. It appeared as though the frets had been removed, then raised up on little hills of dried glue. The entire fretboard was caked with glue and the frets themselves were badly dented and misshapen. They obviously needed to go. The other clear need was for new buttons on the vintage tuners. As often happens, the old ones had dried and crumbled until they were unusable.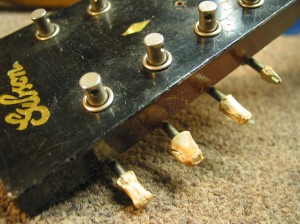 We heated each fret and pulled it out, leaving a strange-looking surface like we've never seen. No wonder this thing didn't play right!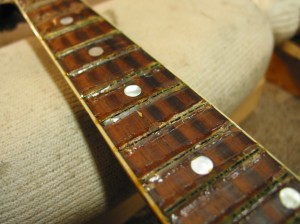 Next, we straightened the neck, cleaned off the loose bits of glue and spent quite a while leveling away what was left until the fretboard was even and clean.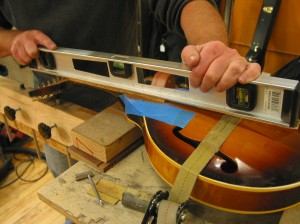 Here's the fretboard after installing and dressing the new frets. It's now perfectly level and free of every bit of the old residue.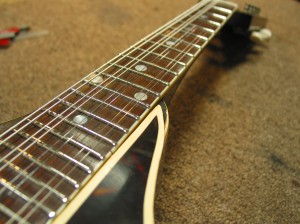 Finally, we replaced the old crumbly buttons with new ones that the owner sent along and gave it The Works set-up.  Much better.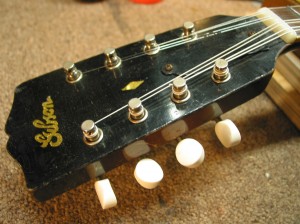 Once complete, this vintage beauty sounded fabulous. …Well, maybe not fabulous (since the two of us only know a few mandolin chords!) But in the right skilled hands, it certainly will for many more years.
And now for the long trip home!