We improved on some poor modifications to this Italian-made EKO Rocket.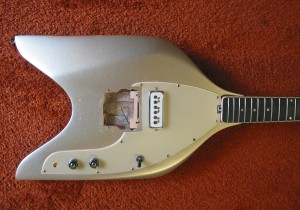 The Rokes were a mid-1960's English band that found their greatest success when they relocated to Italy. There, the Italian guitar maker EKO developed this awesome, futuristic design for The Rokes that resembled both the Gibson Flying V, and a rocket ship! This particular guitar had a rough road that included a rather rough refinish in gold and the addition of what appears to have been a Kahler or similar style locking tremolo at some point. With its single Dearmond pickup, it seemed like it would make a good single pickup / LP Jr. style guitar. We decided to fill the bridge rout and refinish in a new col0r too. Check it out.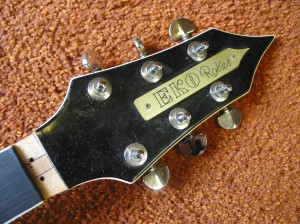 One of the requirements of locking tremolo bridges, is a corresponding locking nut. This one obviously had one once upon a time. We wound up filling the back of the enlarged nut slot and making a new bone nut.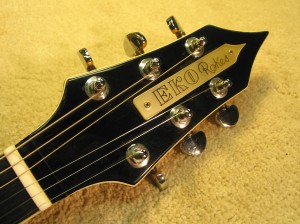 We filled the bridge rout with an epoxied hardwood block.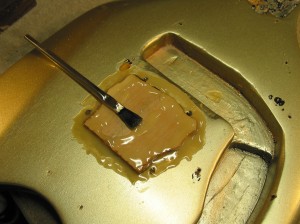 Then sanded it level and stripped the rest of the guitar.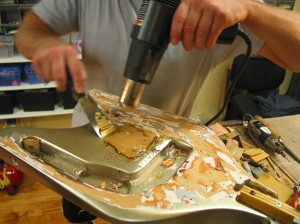 Here, Dan begins re-painting by shooting the body with sanding sealer.
Then an intermediate white coat to give the final color a solid background.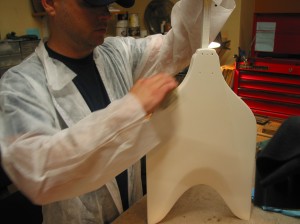 And finally the new color! It's a medium, slightly metallic green. Once we saw it on the guitar, we started to get excited about how this one could turn out.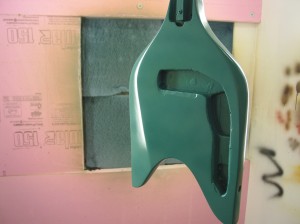 And here's the final product. We installed a wraparound single piece bridge which gives it a very solid, rock tone.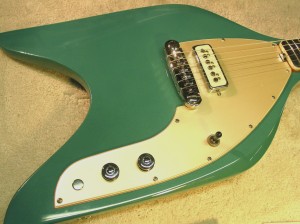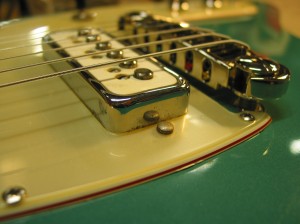 In this light, it starts to look closer to blue. A nice effect.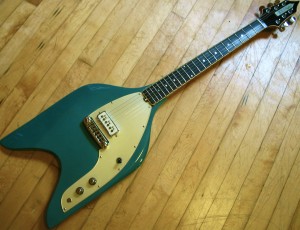 And if you're wondering about the Rokes, you can read about them here.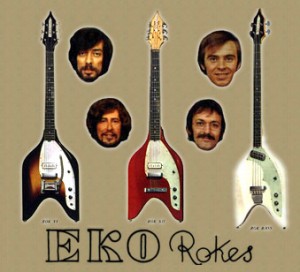 And you can listen to their original Italian version of their biggest hit Piangi Con Me below. Recognize the tune? The English translation became "Live For Today" by The Grass Roots a few years later. This was a fun guitar to work on and it gave us a little rock history too. Can't beat that!