Hang on…something doesn't look right here.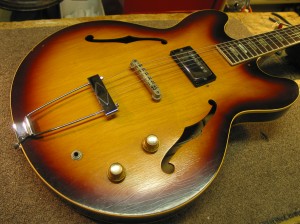 A neighbor of mine brought us this 1960's Epiphone Casino that he was thinking about selling. But he was rightfully concerned that a few obvious alterations would make it hard to sell at its full value. The first concern is the out-of-place humbucking pickup that someone installed to replace the original P90. The second concern is the missing pick guard. We helped locate appropriate replacements for both that will make this guitar more valuable and  more true to its original look and sound.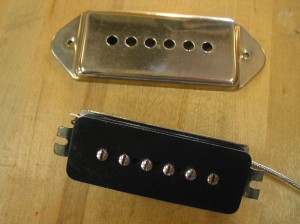 We decided it was important to use an authentic pickup from the same time period as the guitar since that would be essential to getting the right sound out of this vintage classic. We  found both an original 60's P90 and the correct chrome cover in online auctions. They worked perfectly and sound just right.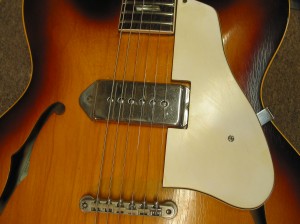 On the other hand, the owner opted not to go after an original pick guard because of its high cost and lack of impact on the actual sound of the guitar. We found an inexpensive replica that fit well and looked the part after some light distressing and coloring. Maybe the next owner will want to find an original.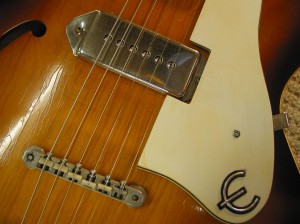 The final touch was applying the signature "E" logo on the pick guard.  With the vintage look now complete, this vintage classic is ready to find a new home.