Amp Repair, Chicago Style.
Drop off your amp for service Saturday 10am-5pm or weekdays 12pm-6pm. We are at full speed with TWO great techs! Raul Cotaquispe and Balthazar de Ley.
Specializing in tube and vintage amps and effects, expert technicians Balthazar de Ley and Raul Cotaquispe bring a toolbox filled with years of experience repairing, maintaining, and customizing amplifiers. Whether yours is new or vintage, solid state or tube, 1 watt or 100 watts, chances are they've fixed it before and will make it sound better than ever. Their discriminating ears won't send it home until it sounds as great as possible.
You'll find that Raul and Balthazar continue the Fret Works tradition of professionalism, honesty, and dedication to getting it right.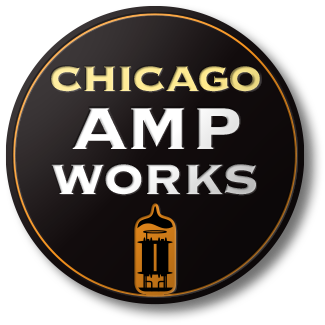 Dropoff your amp from 12pm-6pm Monday through Friday or 10am-5pm Saturday. Email info@chicagoampworks.com or call (773) 698-6246 to inquire.
No need for an appointment
You can drop your amp off any time during our business hours.
General pricing policies
Unlike most guitar repairs, amps require testing and close inspection to get an accurate diagnosis and cost estimate. That said, some ballpark costs for common repairs are listed below as a general guide.
Every amp repair begins with an Amp Check/ Diagnostic
A $80 deposit/bench fee is collected when you drop off your amp as a pre-payment on the first 45 minutes of work and is credited toward further repairs. (For example, if the diagnosis calls for an $100 repair, your remaining balance would be $20)
Amp Check / Diagnostic
A comprehensive inspection, scope, and diagnosis of specific problems as well as a thorough check of your amp for other hidden issues
Detailed estimate of recommended services, including turnaround time and cost. We only do the repairs you authorize and will let you know in advance what to expect
Basic cleaning and tightening of controls
Sometimes this is all an amp needs. If that's the case, that's it!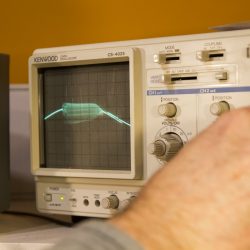 Common Amp Repairs
Tune-up / Check-up: $100-150 depending on model
Recommended as annual maintenance. Your amp's exposure to dust, vibrations from handling, and normal usage can all lead to intermittent noises and malfunctions (usually at the worst possible time!) Keep your rig in tip top shape with this basic service.
Includes:
Cleaning & tightening of pots, jacks, switches, & controls
Cleaning & re-tensioning of tube sockets
Testing tubes for malfunction, noise, & microphonics
Re-soldering loose/questionable connections
Checking/adjusting bias (idle current)
Visual & tap inspection of all components
Measuring output signal on oscilloscope
Audio sweep test of speakers
Testing with guitar or bass
Recommendation and estimate for other needed repairs and maintenance
Re-tube / bias adjustment
Labor estimate only – prices do not reflect cost of tubes or parts.
Some common examples:
Fender Princeton Reverb: $80+
Fender Twin Reverb: $100+
Marshall JCM 800: $100+
Ampeg SVT Classic: $150+
Fender Hot Rod Deville: $80+
Vox AC30: $100+
Ampeg Gemini / V4 / Reverb Rocket $100+
Replace filter / electrolytic caps
Labor estimate only – prices do not reflect cost of parts.
Some common examples:
Fender Princeton Reverb: $100+
Fender Twin Reverb: $125+
Marshall JCM 800: $175+
Fender Hot Rod Deville: $125+
Vox AC30: $150+
Ampeg Gemini / V4 / Reverb Rocket $150+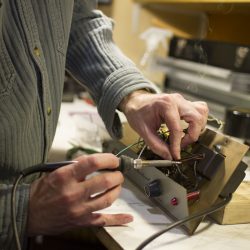 Replacement parts
We stock high quality replacement parts like J/J Tubes, Sprague or F&T Caps, Switchcraft jacks, and CTS Pots.
If you prefer something else, just ask! Groove Tubes, Mullard, Tung-Sol, Electro-Harmonix, Sovtek … you name it.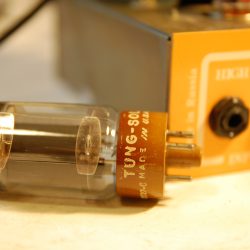 Trophy Case
We've serviced all these brands and many more