All jobs are priced individually but will usually fall into the following ranges. Prices do not include strings or parts unless specified.
The Works: $170
For most instruments.
Add $24 for twelve string, mandolin, or floating tremolo. Add $15 for finished/maple fingerboards.
Add $40 for Rickenbacker twelve string, most banjos, and resonator guitars.
Sometimes referred to as a fret "dress" and setup, The Works includes precision level, re-crown and high polish of your instrument's frets along with complete set-up of truss rod, string height (action) and intonation. This work will minimize fret buzz, eliminate fret pitting and divots, and improve your overall tone! The whole instrument will be cleaned and polished and all hardware and electronics inspected, cleaned, and lubed.
Recommended for guitars that receive normal to heavy use or have not been serviced in more than a year.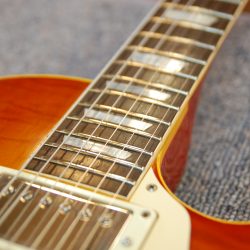 Quick Set: $100
For most instruments. Add $15 for maple or finished fretboards. Add $24 for twelve string, mandolin, or floating tremolo. Add $40 for Rickenbacker twelve string, most banjos, or resonator instruments.
Includes Restring, fretboard clean and high polish, cleaning of instrument, adjustment of truss rod, string height (action,) and intonation.
Sufficient for newer guitars or instruments that have been set up within 6 months.
Restring:
Bass, 6 string guitar, or banjo: $35
12 string, mandolin, classical, or locking tremolo: $50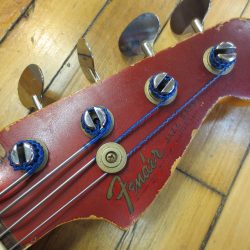 Refret: $450–$500
Stainless + $95
New bone nut $85 with refret
Includes precision level of fretboard, replacement of all frets, fret level and recrown, and The Works setup. Frequently requires nut replacement to accommodate newer/taller frets.
Does not include fret-wire (material:) $15 for standard nickel sizes, $35 for stainless steel
Hand-made, custom fit bone nut: $105
Includes restringing. Does not include cost of material/blank ($7-10) or strings.
Twelve string nut: $140
Mandolin nut: $130
Available materials include unbleached or bleached bone, black water buffalo horn, and synthetic materials
Custom handmade acoustic bone saddle: $95
Includes restringing. Does not include cost of material/blank ($5-10) or strings.
Compensated for proper intonation (no additional charge)
Unbleached "vintage" look available: +$5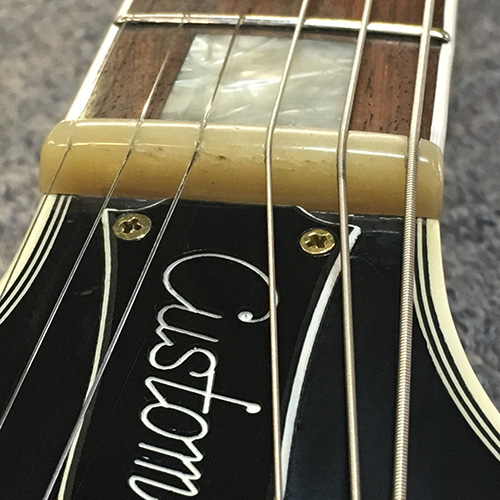 Electronics
Pickup installation: Electric guitar and bass
Passive pickups: $65-75 first pickup, + $15 for second, +$10 for third
Active system with replacement pots (EMG for example) : $90 first pickup, $10/additional
Pickup installation: Acoustic guitar
$50 – $75 (varies with different systems)
Electronic troubleshooting: $25 and up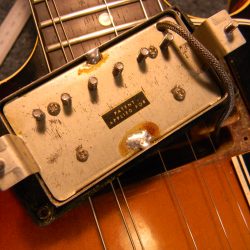 Structural Repairs
Prices for these repairs have a broad range because they vary from the relatively simple to very complex. We'll give you a more accurate price once we get a close look at your instrument. Prices include restring – add $35 for basic set-up
Broken headstock:
Reglue with no touchup (headstock attached): $175
Reglue with no touchup (headstock off): Starting at $175
Reglue with (usually invisible) touchup: $275 and up
Rebuild shattered or missing headstock: photos required for estimate
Acoustic top, side or back crack: $175 – $250
Includes internal support cleats. Touchup starts at $50
Neck reset: $500 – $600
Includes Works setup, frequently requires Refret as well
Acoustic Bridge reglue: $210 and up
For most instruments. Add $15 for guitars with under-saddle pickups. Includes Restring.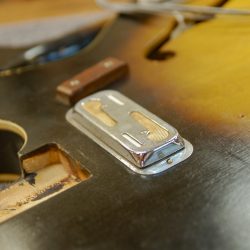 Refinishing
Refinish guitar: $500 – $1200
For most projects. Email for closer estimate.  Paint material cost typically $20 – $40
Finish Touch Up: $85 – $200
Color matching with Nitrocellulose Lacquer and poly finishes available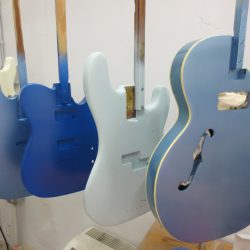 Buzz Feiten Tuning System Retrofit
Includes bone blanks & free Quick-Set
Electric Guitar: starting at $179
Acoustic Guitar: starting at $389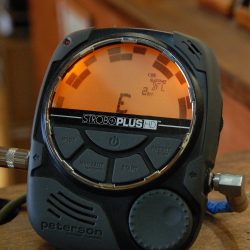 "Guys, I'm a fan. I have spent thirty years playing and you have the ability to make my guitar play great – finally. The set up today at first scared me only because well, it was new. Now I'm hooked. I'm bringing my two other Fenders in for set ups. Thank you again."
Howard
"You set up my Epiphone Masterbilt over the weekend and it plays gorgeously. Wow, what a nice difference. Very nice work."
Justin H.
"Thanks for your expert set-up on my Martin. I had been plagued with problems since I purchased it two years ago. It now plays with ease and sounds absolutely wonderful.
I will certainly recommend you to my fellow students at the Old Town School of Folk Music if they are in need of your services."
Ernie S.
"I would like to thank you for the work you did on my Epiphone Les Paul a few weeks ago. The new pickups sound great, the bone nut performs flawlessly, and you did a wonderful job fixing the action. It's almost as if you transformed it into a Gibson!"
Mike S.
"I brought my 6 string Seagull in to get 'The Works.' Your service was great and
my guitar is working wonderfully. Thanks."
Jesse B.
"Thanks for the great fret job and general maintenance on my Martin OM41. It sounds freakin' awesome again. To quote a famous Austrian immigrant once-Mr. Universe turned action movie hero turned governor turned nanny-boinker: 'I'll be back'."
James C. - Chicago
"To all who have a 'classic' guitar, rest assured - the guys at Chicago Fretworks are truly masters! They called at every step to give me updates, and my old Gibson Dove plays better now than when I purchased it over 30 years ago. I highly recommend them to all considering work on your 'baby'!"
Tim S.
Thanks so much to Patrick and all of you at Chicago Fretworks. The Polytone is restored and has much quieter switching. And the Ampeg Reverborocket, and Mesa Boogie 22 sound better than they ever did. The replaced reverbs are great and the tones of both are singing out with a new grace. Thanks a million. I'll be back, and will spread the word.
Bill