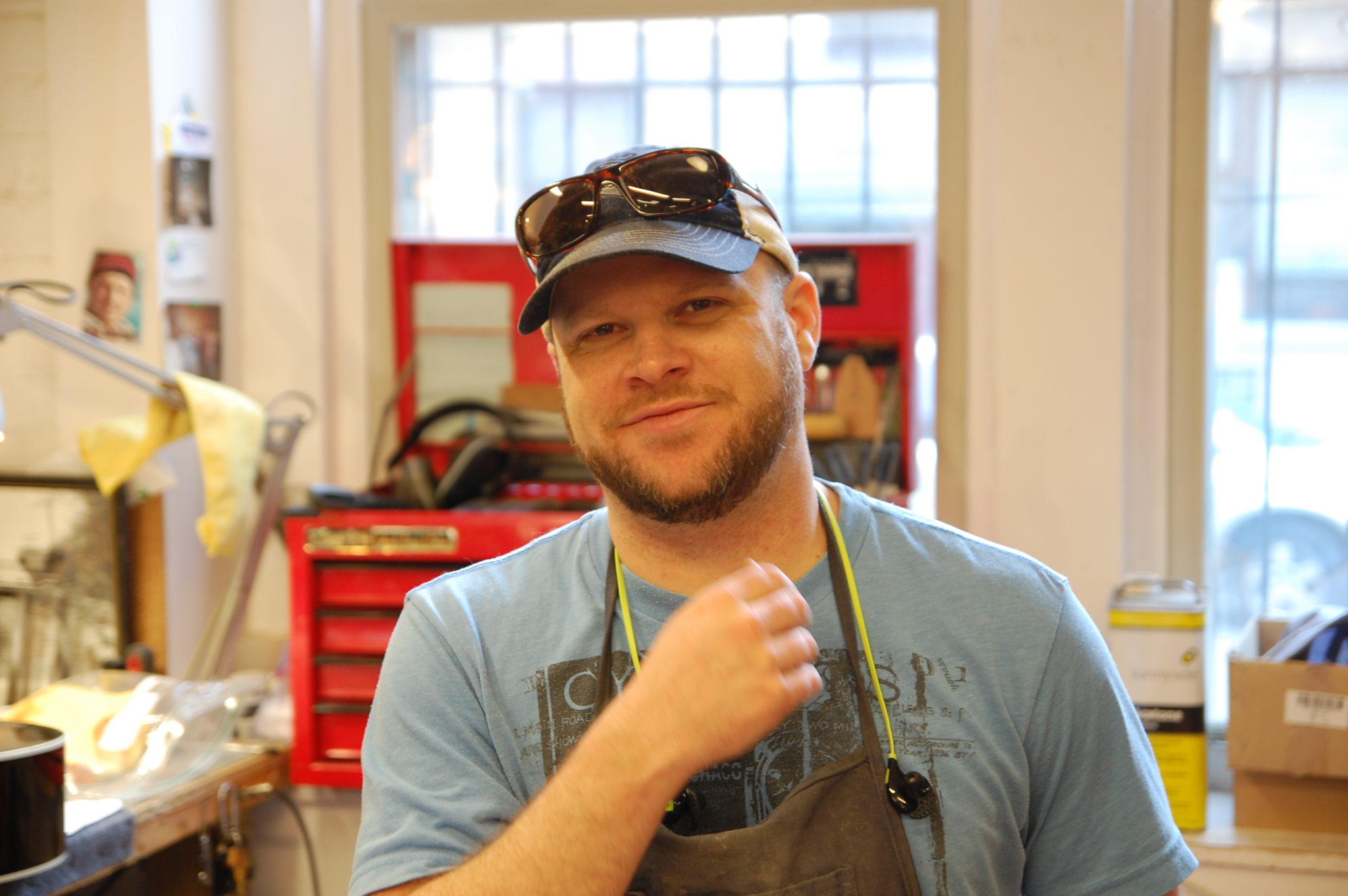 Dan Wolf
Owner/Luthier
Since 1997, thousands of players, collectors, and enthusiasts from around the country have turned to Dan for their most challenging and difficult repairs. Top crack on your Taylor? Fractured headstock on your vintage Les Paul? A neck reset on your prewar Martin? When Dan's finished you'll forget it ever happened as you return to making music with your favorite partner. Dan began learning his craft in 1996 at Red Wing Technical College (Now Minnesota State College – Southeast Technical) in Red Wing, MN. He and his wife live on the north side of Chicago with their dog, CFW greeter Reese. Dan loves taking in live music and rooting for almost all of Chicago's sports teams.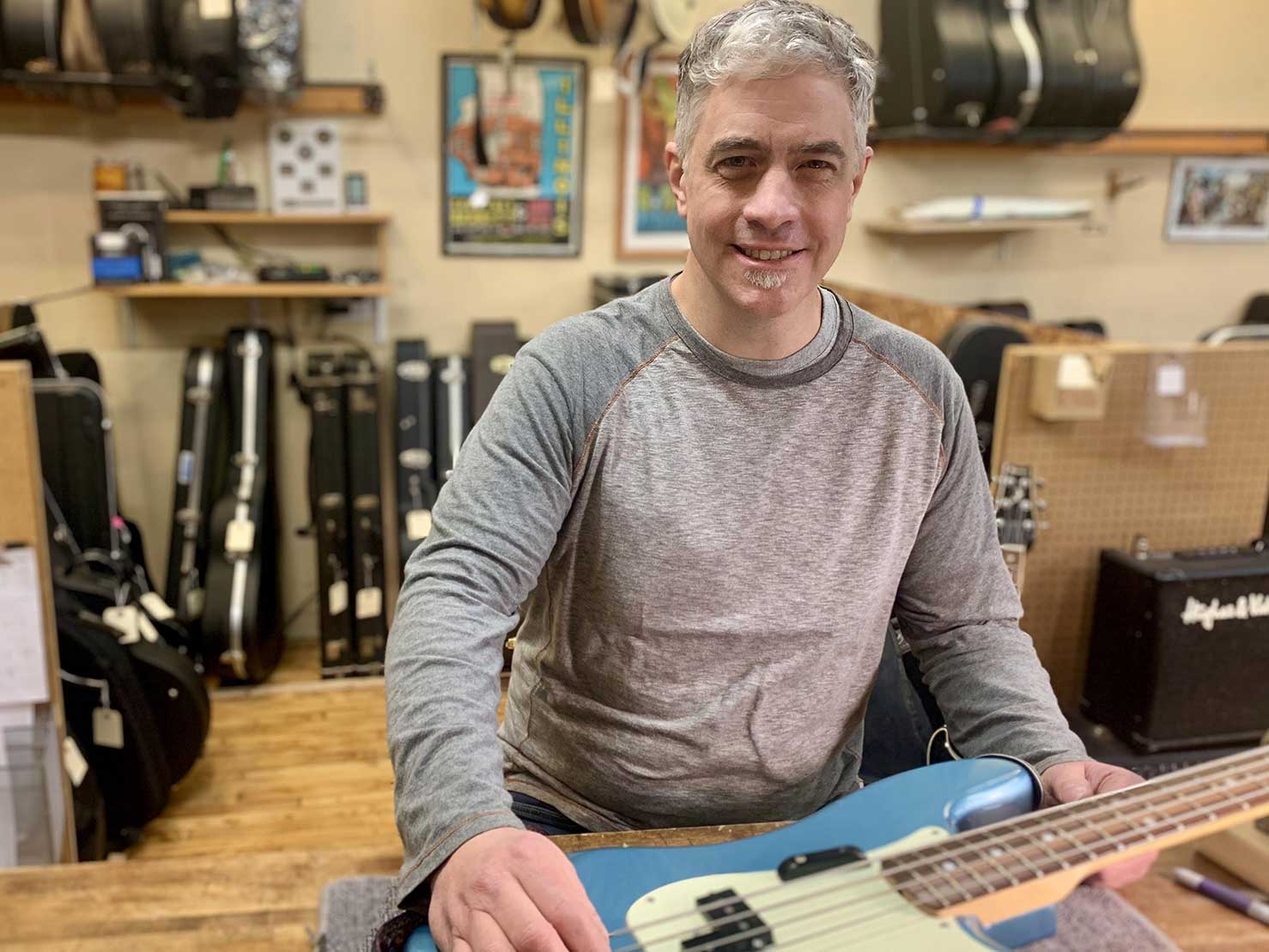 Steve Baker
Owner/Luthier
Steve began working on guitars in 2000 at Bryan Galloup's School of Luthiery. Prior to that, he spent 5 years teaching high school English in Chicago and the southwest suburbs. Over the years, Steve has established a reputation as a knowledgeable, honest, and skilled repairman. He particularly enjoys working on guitar electronic repairs and reviving old guitars that have been in hiding for a while. He lives in the Lincoln Square neighborhood with his family and occasional substitute shop-dog Olivia.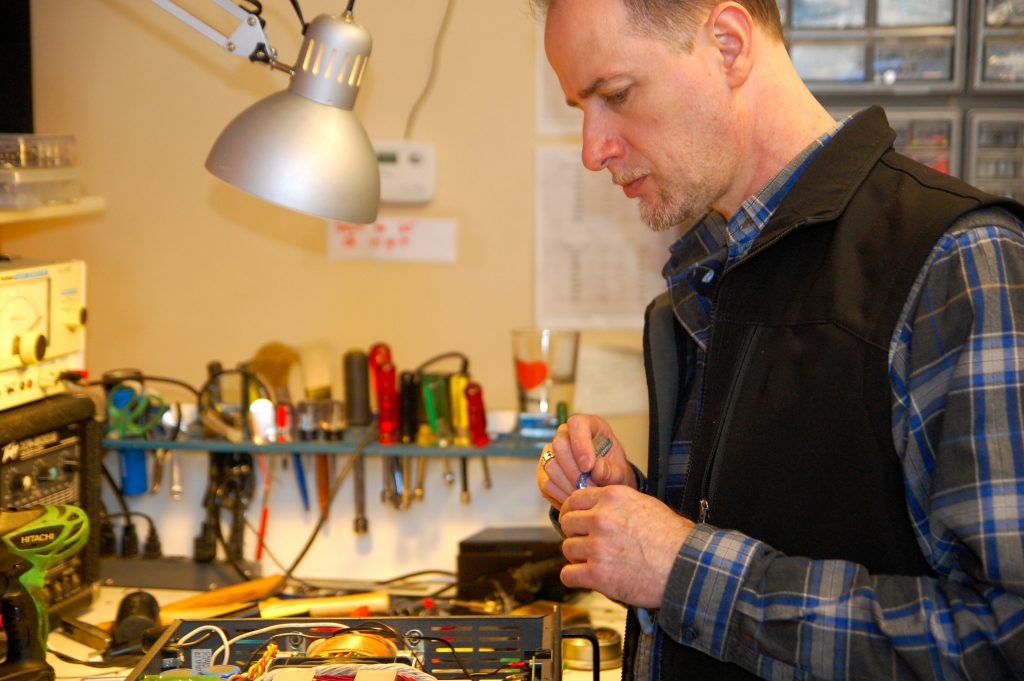 Patrick McKeever
Amp Repair and Service (lead technician)
Since 2000, Chicago guitarists and bassists have turned to Pat for complete servicing of their amplifiers. He prides himself on helping musicians "find their tone – the sound that you hear in your head – the way your gear ought to sound." He trained at the Electronic Institutes of Pennsylvania, graduating in 1985, and has spent the years since focusing on how to get great sounds out of guitar and bass amps. Pat has been a professional bass player and a regular in the Chicago Blues scene for some 25 years, performing and touring with Eddie Clearwater, Willie Kent, and Guy King among others. He also hand-builds the beautiful Fender-inspired Sweet Amplifiers.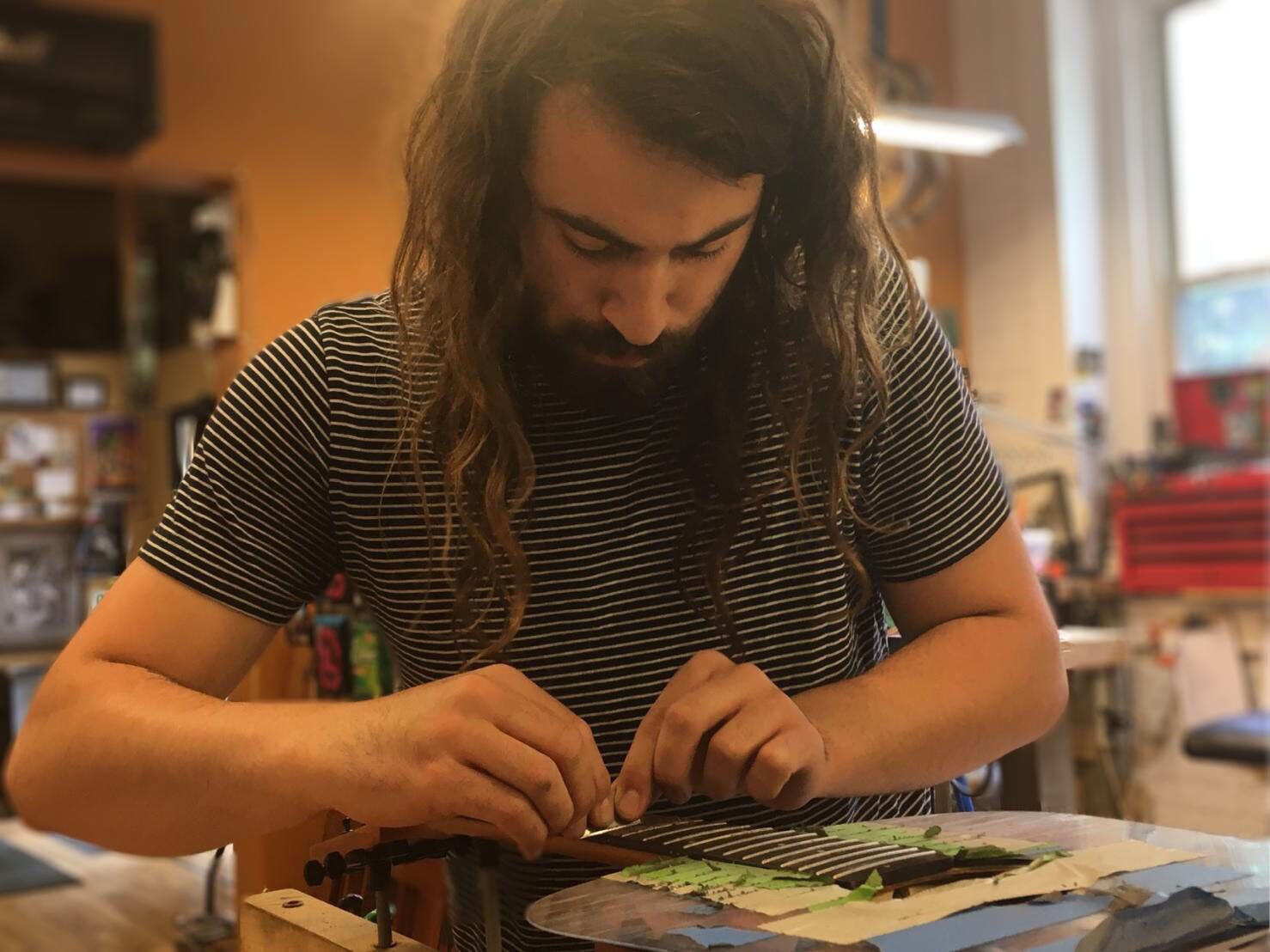 Troy Anderson
Guitar Technician
Troy grew up in the south suburbs of Chicago and began tinkering with guitars while he was in high school. Before joining the CFW staff in 2018, Troy Anderson was the lead guitar repair tech at Guitar Center in Country Club Hills, IL. He is a pop & rock singer/songwriter and multi-instrumentalist. You can check out some of his work on Soundcloud. When he isn't playing or repairing guitars, Troy is usually at a dog park playing catch with his two golden retrievers JJ and Josie. Whether you have a vintage gem or something fresh off the shelf — Troy is your guy to get it setup and playing the best it can.
Pete Mueller
Guitar Technician
Pete has been building and repairing guitars professionally since 2011. He is a veteran of multiple repair shops in Chicago and builds his own line of electric guitars under the moniker PM Guitars. When he's not looking at a strobe tuner, Pete enjoys fishing, trying to get his uncooperative motorcycles to run and playing in his band PEEL. (At least during times when there isn't an ongoing global pandemic.)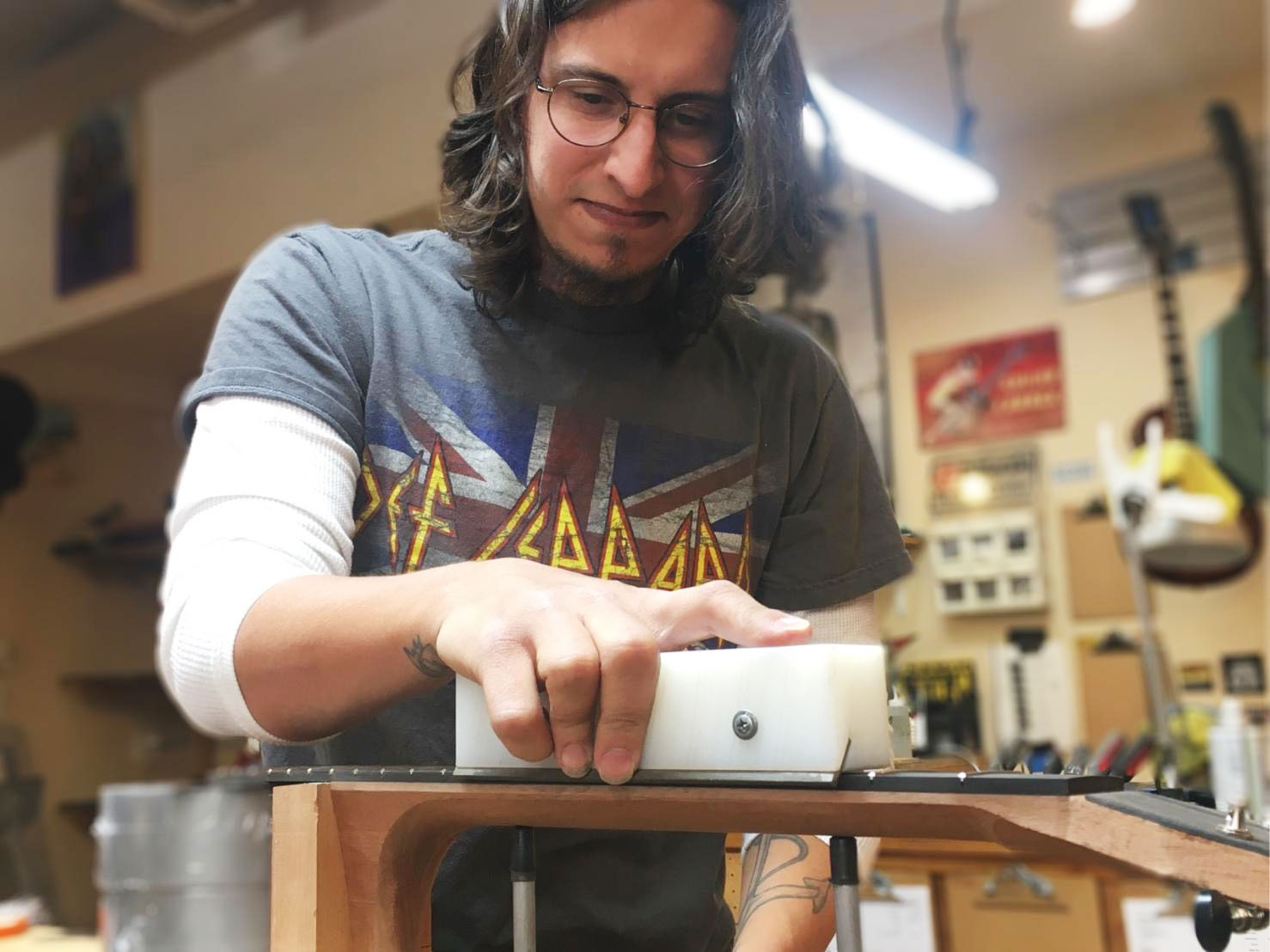 Cameron Baum
Guitar Technician
Not long ago, two loving parents bought their 8-year-old son a guitar, prompting him to take it apart and try to put it back together. A few short years and multiple attempts later, Cameron Baum realized that guitar repair was the only thing he could really concentrate on so he headed to Arizona's Roberto Venn School of Luthiery. After graduating, he became the repair technician at the Rockford GC for three years before finding his way here to CFW. He now handles many of our trickiest structural repairs and has the cleanest workbench in the shop.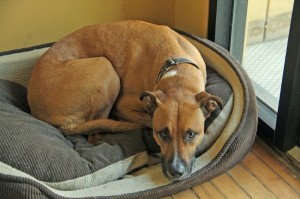 Reese
Security/Greeter
The first employee to join CFW, Reese is always happy to see you. He enjoys greeting customers, especially young ones, with a tail wag and the occasional kiss. When he's not on duty, he likes playing frisbee on the lakefront, camping, and sitting on sofas.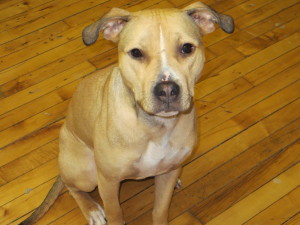 Olivia
Security/Greeter
Sometimes Reese needs a day off too. When he does, you'll often find sweet Livy here to take over tail-wagging duties. She would love it if you'd put down that guitar and throw her ball please.
"Guys, I'm a fan. I have spent thirty years playing and you have the ability to make my guitar play great – finally. The set up today at first scared me only because well, it was new. Now I'm hooked. I'm bringing my two other Fenders in for set ups. Thank you again."
Howard
"You set up my Epiphone Masterbilt over the weekend and it plays gorgeously. Wow, what a nice difference. Very nice work."
Justin H.
"Thanks for your expert set-up on my Martin. I had been plagued with problems since I purchased it two years ago. It now plays with ease and sounds absolutely wonderful.
I will certainly recommend you to my fellow students at the Old Town School of Folk Music if they are in need of your services."
Ernie S.
"I would like to thank you for the work you did on my Epiphone Les Paul a few weeks ago. The new pickups sound great, the bone nut performs flawlessly, and you did a wonderful job fixing the action. It's almost as if you transformed it into a Gibson!"
Mike S.
"I brought my 6 string Seagull in to get 'The Works.' Your service was great and
my guitar is working wonderfully. Thanks."
Jesse B.
"Thanks for the great fret job and general maintenance on my Martin OM41. It sounds freakin' awesome again. To quote a famous Austrian immigrant once-Mr. Universe turned action movie hero turned governor turned nanny-boinker: 'I'll be back'."
James C. - Chicago
"To all who have a 'classic' guitar, rest assured - the guys at Chicago Fretworks are truly masters! They called at every step to give me updates, and my old Gibson Dove plays better now than when I purchased it over 30 years ago. I highly recommend them to all considering work on your 'baby'!"
Tim S.
Thanks so much to Patrick and all of you at Chicago Fretworks. The Polytone is restored and has much quieter switching. And the Ampeg Reverborocket, and Mesa Boogie 22 sound better than they ever did. The replaced reverbs are great and the tones of both are singing out with a new grace. Thanks a million. I'll be back, and will spread the word.
Bill