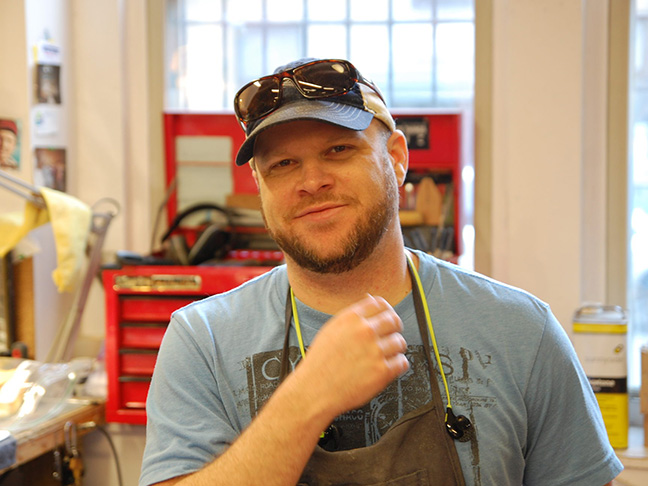 Dan Wolf
Owner/Luthier
Since 1997, thousands of players, collectors, and enthusiasts from around the country have turned to Dan for their most challenging and difficult repairs. Top crack on your Taylor? Fractured headstock on your vintage Les Paul? A neck reset on your prewar Martin? When Dan's finished you'll forget it ever happened as you return to making music with your favorite partner. Dan began learning his craft in 1996 at Red Wing Technical College (Now Minnesota State College – Southeast Technical) in Red Wing, MN. He and his wife live on the north side of Chicago with their dog, CFW greeter Reese. Dan loves taking in live music and rooting for almost all of Chicago's sports teams.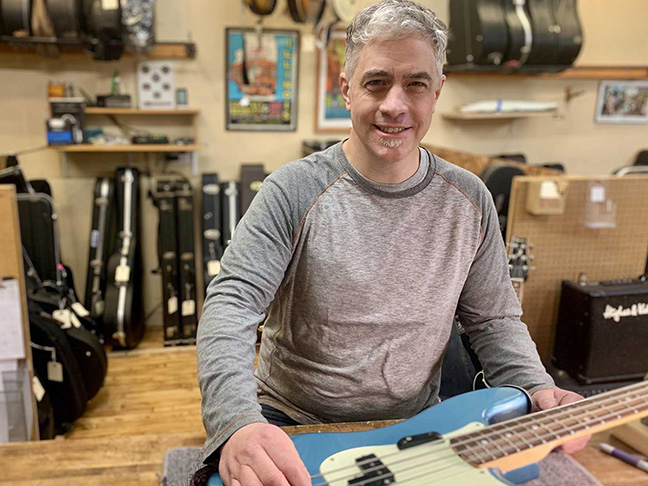 Steve Baker
Owner/Luthier
Steve began working on guitars in 2000 at Bryan Galloup's School of Luthiery. Prior to that, he spent 5 years teaching high school English in Chicago and the southwest suburbs. Over the years, Steve has established a reputation as a knowledgeable, honest, and skilled repairman. He particularly enjoys working on guitar electronic repairs and reviving old guitars that have been in hiding for a while. He lives in the Lincoln Square neighborhood with his family and occasional substitute shop-dog Olivia.
Raul Cotaquispe
Amp Repair and Service
When the pandemic of 2020 hit, Raul took the opportunity to turn his longtime hobby repairing and modifying guitar amps into a new career, joining CFW in 2021. Over the years, he has worked as a machinist for Schilke trumpets, as a guitar teacher at Old Town School of Folk Music, and as an electrical technician at Woodward Aeronautics. He also plays drums for Chicago band Izzy True and runs sound at Chicago's legendary venue The Hideout. He continues the tradition of top notch repairs and friendly customer service our clients have come to expect. Raul lives in Chicago with his shopdog buddy Cusco.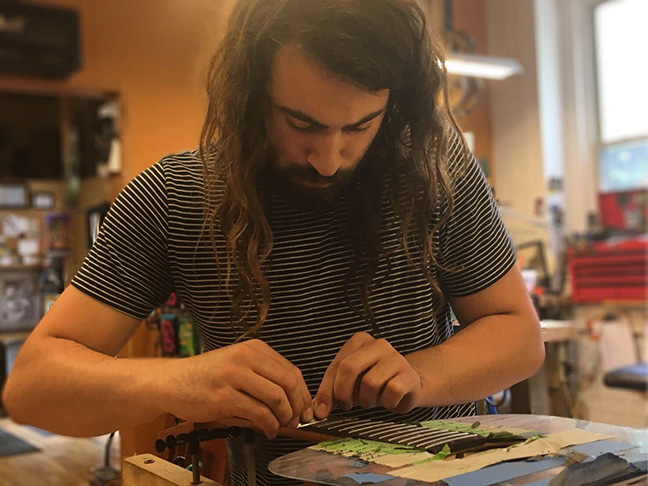 Troy Anderson
Guitar Technician
Troy grew up in the south suburbs of Chicago and began tinkering with guitars while he was in high school. Before joining the CFW staff in 2018, Troy Anderson was the lead guitar repair tech at Guitar Center in Country Club Hills, IL. He is a pop & rock singer/songwriter and multi-instrumentalist. You can check out some of his work on Soundcloud. When he isn't playing or repairing guitars, Troy is usually at a dog park playing catch with his two golden retrievers JJ and Josie, (who you may meet in the shop!) Troy has become a highly skilled fret-worker, doing many of the refretting jobs here. He also loves relic projects, giving modern guitars the look and feel of instruments from the 50's & 60's.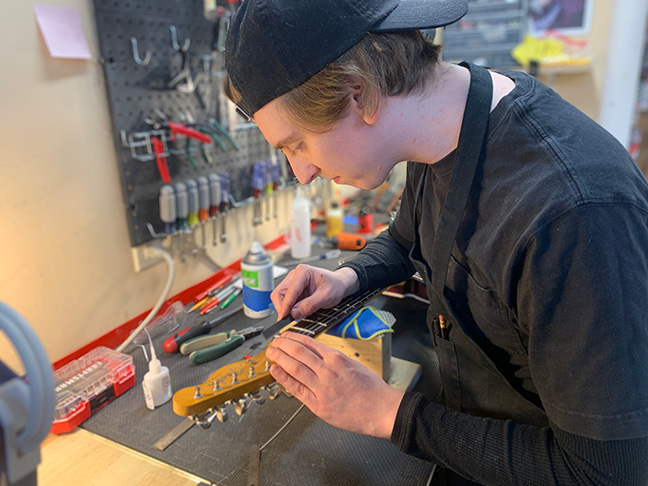 Micah Strobel
Guitar Technician
Micah hails from southeast MInnesota and was raised in a household of musicians. His early interest in performing in music and theater evolved into an interest in the way instruments worked. He attended the guitar and violin building and repair program at Red Wing (Minnesota Southeast Tech) for three years, taking every available course. He's excited to hone his craft here in Chicago!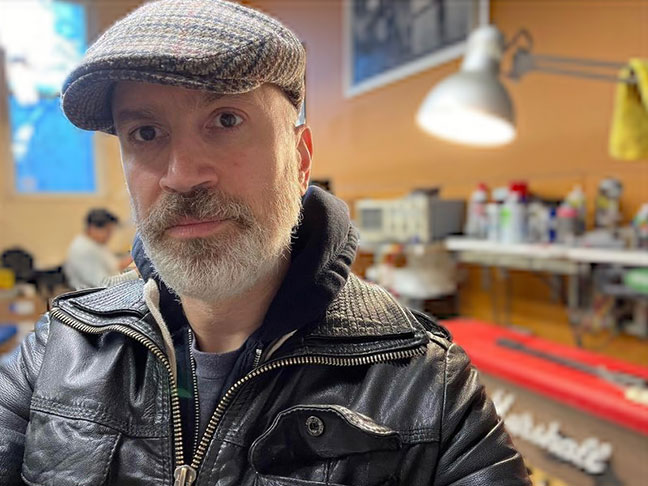 Balthazar de Ley
Amp Technician
Before joining our amp repair crew in 2021, Balthazar already had a long career of building and repairing amps and other musical gear in Chicago. He spent years restoring and maintaining the array of vintage amps and studio equipment for Smashing Pumpkins and continues to build his own line of handmade tube amplifiers based on early 60's British-made amps like Selmer and Vox. Learn more about them at balthazaramps.com.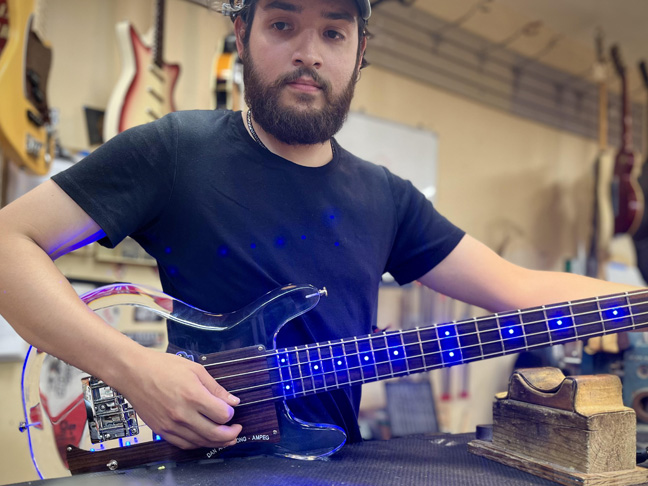 Jorge Hernandez
Guitar Technician
Right hander Jorge Hernandez is a Seattle native, drafted in the second round by Chicago Fret Works. He moved up quickly through the minors and is now a fixture in our starting lineup. He plays lead guitar in a band to be named later and is known around the majors for his "low action, no-buzz" setup. Look at that form.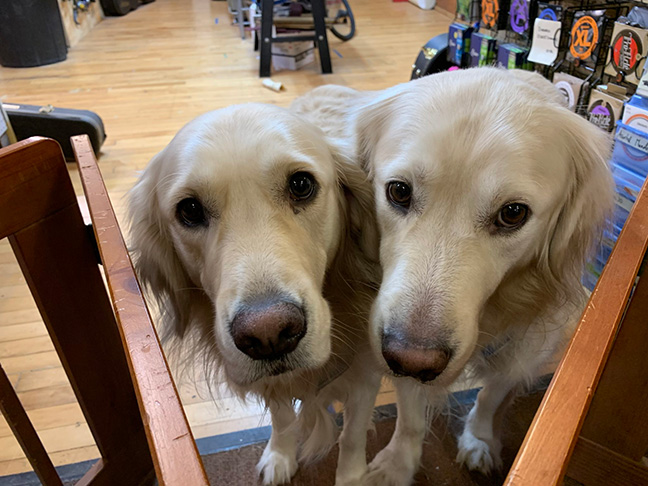 Josie & JJ
Security/Greeters
Josie (left) and her brother JJ have become regulars here in the shop. They go home with Troy at night but they're so friendly you'll feel like you've known them forever. Belly rubs always welcome.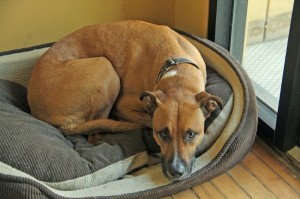 Reese
In Memorium 2004-2021
The first employee to join CFW in 2008, Reese was always happy to see you. He enjoyed greeting customers, especially young ones, with a tail wag and the occasional kiss. He and Dan spent nearly 16 years together, playing frisbee on the lakefront, camping, and sitting on sofas. We miss him.
"Guys, I'm a fan. I have spent thirty years playing and you have the ability to make my guitar play great – finally. The set up today at first scared me only because well, it was new. Now I'm hooked. I'm bringing my two other Fenders in for set ups. Thank you again."
Howard
"You set up my Epiphone Masterbilt over the weekend and it plays gorgeously. Wow, what a nice difference. Very nice work."
Justin H.
"Thanks for your expert set-up on my Martin. I had been plagued with problems since I purchased it two years ago. It now plays with ease and sounds absolutely wonderful.
I will certainly recommend you to my fellow students at the Old Town School of Folk Music if they are in need of your services."
Ernie S.
"I would like to thank you for the work you did on my Epiphone Les Paul a few weeks ago. The new pickups sound great, the bone nut performs flawlessly, and you did a wonderful job fixing the action. It's almost as if you transformed it into a Gibson!"
Mike S.
"I brought my 6 string Seagull in to get 'The Works.' Your service was great and
my guitar is working wonderfully. Thanks."
Jesse B.
"Thanks for the great fret job and general maintenance on my Martin OM41. It sounds freakin' awesome again. To quote a famous Austrian immigrant once-Mr. Universe turned action movie hero turned governor turned nanny-boinker: 'I'll be back'."
James C. - Chicago
"To all who have a 'classic' guitar, rest assured - the guys at Chicago Fretworks are truly masters! They called at every step to give me updates, and my old Gibson Dove plays better now than when I purchased it over 30 years ago. I highly recommend them to all considering work on your 'baby'!"
Tim S.
Thanks so much to Patrick and all of you at Chicago Fretworks. The Polytone is restored and has much quieter switching. And the Ampeg Reverborocket, and Mesa Boogie 22 sound better than they ever did. The replaced reverbs are great and the tones of both are singing out with a new grace. Thanks a million. I'll be back, and will spread the word.
Bill