This one is the real deal. A gorgeous "unbound" 1958 Gibson ES335. Take a closer look.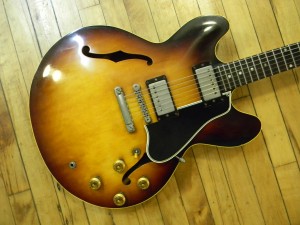 This guitar was once part of Richard Gere's collection that was auctioned off in October 2011. It's a very early example of a 1958 Gibson ES335. The earliest ones from that year had unbound fretboards and this one is in terrific shape. A few parts needed to be replaced and spruced up, and when we were all done we got to enjoy the rich tones of some of the earliest P.A.F. humbuckers. It was a pleasure to get it up and running. Read on for some more pics!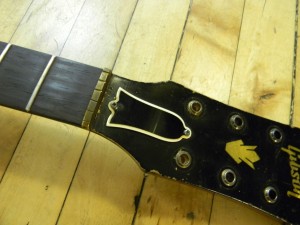 The first thing that had to go was a non-original brass nut, installed years ago. Gibsons from this period used a nylon nut and we were able to get our hands on a 6/6 nylon blank to make a replacement that should make the guitar sound and look more like it did originally. We also needed to fit new buttons onto the original tuning machines.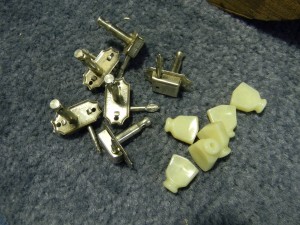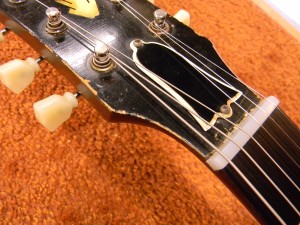 It's got the real deal "Patent Applied For" sticker to tell us this is a genuine P.A.F. pickup. They each measured around 7.5k ohms and sounded clear, chimey, and rich. Exactly what you'd hope to hear from some of the greatest pickups ever.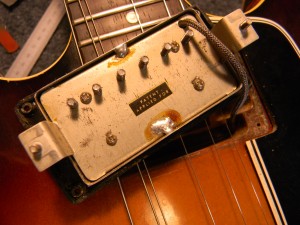 Some more eye candy: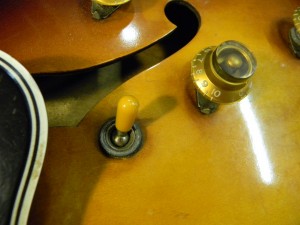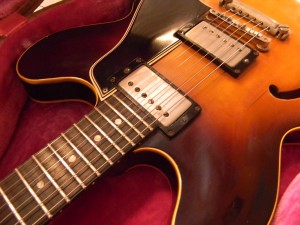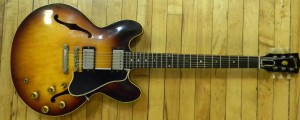 Just beautiful. We should all have one of these!