We recommend removing the midi pickups from your vintage acoustic guitars. Just saying.
Okay, unless you want it to sound like a trombone or a piano, you're probably not thinking of putting six midi sensors in the bridge of your vintage guitar. But if you already have and you're looking for someone experienced to remove them, look no further! This 1967 Gibson J-45 arrived with a highly unusual mod (which we must point out, was done masterfully) but which the new owner wanted removed. He wanted to go back to an original style bone saddle and a better pickup for a true acoustic guitar tone. The only issue is that the original bridge design had been altered, requiring an unusual saddle shape.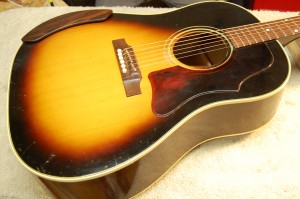 Each brass midi sensor has its own connection wire that needed to drop through the bridge and connect to the 7 pin output jack. So the tech who installed it appears to have planed the top of the bridge flat, filled in the original oversized saddle slot, added an entirely new top section to the bridge, routed it for correct intonation, and installed the pickups. It was a lot of work and it was done expertly. We just don't want it there anymore.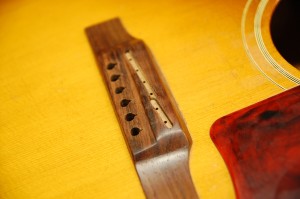 Since the new saddle slot is in two different sections (this helps achieve correct intonation between the plain steel 1st and 2nd string and the phosphor wound 3,4,5, and 6,) we have to make two saddles.
The smaller section has to curve around the end of the larger one and Joe did a great job of making them fit together perfectly.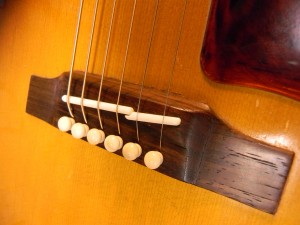 While we were in there, we installed the wonderful K&K Pure Mini pickup – our favorite acoustic system. Three sensors mount directly under the saddle on the bridge plate (those 6 holes below would be the bridge pin holes as seen from inside the guitar.) It's passive, so there's no batteries to change; mounts on the vibrating part of the top, so the response is natural and woody compared to the "quacky" response you hear in under-saddle pickups; and is relatively inexpensive at only $185 including installation. We recommend them on nearly all acoustic pickup jobs.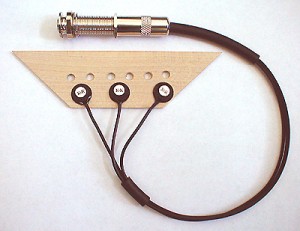 So quite a transformation for a great old J-45. The bone saddle and high quality pickup have it sounding like a real acoustic guitar again. Chicago Fret Works: your source for complete un-doing of ill-conceived mods on classic instruments!