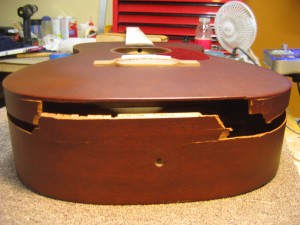 It's hard to say how many times we've repaired a guitar that was damaged by airline baggage handling.  It's a big number though. This Martin 000-15 had a rough flight and split open like a can of beans. Unfortunately the damage was bad enough that sizeable pieces of the side were missing completely. For this repair, we needed to repair the cracks, replace the missing areas, and touch it up to make it look like it never happened. Make sure your seat is in the upright position; this ride gets bumpy.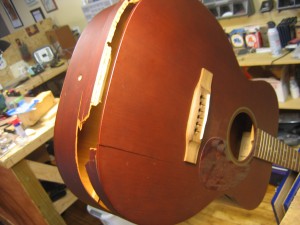 Here's a good look at the damage to this guitar. There's a good size top crack there, but next to that huge side split you almost don't see it. To keep all the crack's from slipping under clamp pressure, we want to get all of the main breaks glued up at the same time. This means four hands on the guitar, pushing from the inside, pushing from the outside, applying glue, and setting clamps. (Not to mention one set of hands snapping a quick picture or two.)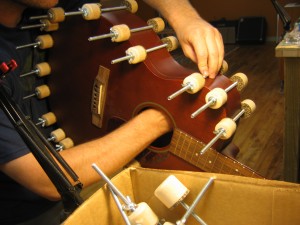 After letting the glue set up we removed the clamps and found things looking a little less scary already.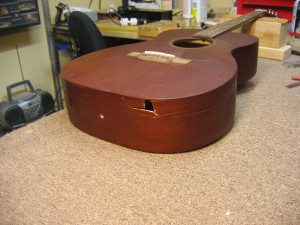 After replacing the missing mahogony, we overspray the area so the repair lines are less visible. Then we draw in grain lines, …
…match the side finish to the rest of the guitar, and apply a matted top coat. Add a fresh set of strings and "The Works" setup and this guitar is ready for a safe landing!