Can't afford a real 1952 Telecaster? We made this new guitar feel like it was 55 years old. De Leon's nightmare.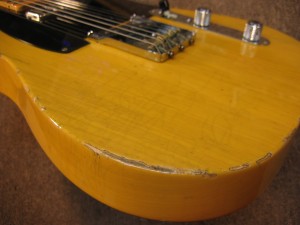 For a variety of reasons, some folks just prefer old guitars. Maybe it's the neck, worn smooth by years of handling. Maybe it's the checked and cracked finish that looks like granddad's old tube radio. Maybe it's just the charm of something that's played some music in its time. Or maybe it's the fact that vintage guitars' values are reliably and steadily rising – making them a good investment. But some of us can't find or afford our real dream guitar. So at Chicago Fret Works, we've developed a relic process that will simulate aging in a guitar, giving it the look and feel but not the pricetag of a genuine vintage piece.
In this case, the dream guitar is a 1952 Fender Telecaster; the actual guitar is a 2008 Fender 52 Reissue Hot Rod Tele. That guitar looks something like this when brand new: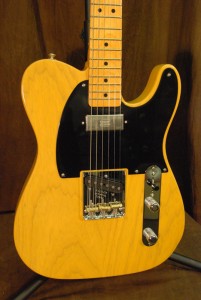 The Seymour Duncan mini-humbucker notwithstanding, this guitar is made to the specs of an original 52 Tele, including a nitrocellulose lacquer finish, nickel hardware, maple fretboard, and "ashtray" style bridge. These features make it an ideal candidate for a relic job because we don't really need to replace any parts or completely refinish the guitar before we get started. A poly-coated guitar with modern chrome hardware can be distressed and banged up, but not with the authentic look of nitro and nickel. (If you're not sure which variety your guitar is, don't worry. We'll help you figure it out.)
Here's how it looked when we were finished: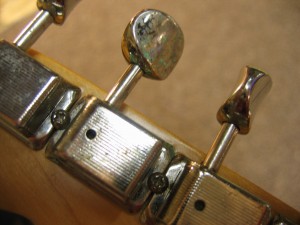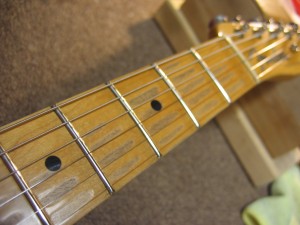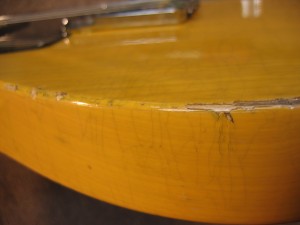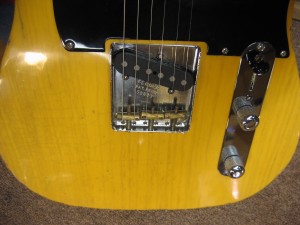 What's the opposite of the Fountain of Youth?… We think we've found it here.