A family heirloom gets a new life for the next generation of strummers.
We weren't sure we believed a phone caller who said his vintage Gibson acoustic guitar had a crack in the top that was open more than a quarter inch. But when he brought it in, sure enough that crack above the sound hole had buckled and bent until it was open wide. This crack likely started out as a hairline split on a guitar that hadn't been sufficiently humidified. It wasn't repaired right away and over time the top wood curled up and almost completely separated from the brace underneath. It's a tricky repair that came together quite nicely. While we were at it, we reset the neck, planed the fretboard level, replaced the frets, and replaced the dried and curling pickguard with a custom-cut new guard that fit right in with this old beauty.
See how you can properly humidify your guitar to protect it from damage like this in our recent special post on guitar case  humidifiers.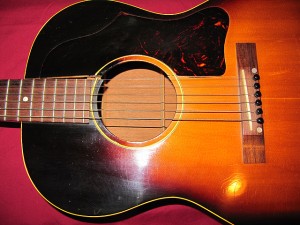 Here's another couple of shots of that crack along the fretboard. This is a common spot for humidity cracks because it falls along the edge of rigid areas like the fretboard and head block and runs parallel to the grain of the top.  Most often, we see these cracks soon after they occur, unlike this one that went untreated for years.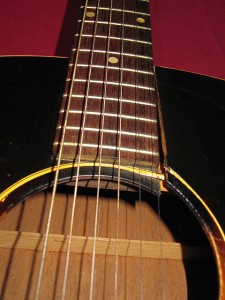 Closer inspection reveals yet another crack along the edge of the pick guard – another common spot for humidity cracks. This repair requires removing the old pick guard, gluing a spruce splint into the crack, and making a new pick guard. (The old one is usually so dry, shrunken, and caked with old glue that to reuse it is rarely worth the trouble it would take to make it look right again.)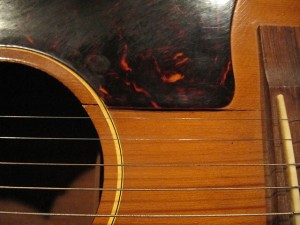 It wasn't until this repair was complete that we realized we hadn't taken pictures of the process. But thanks to the owner, we have the before shots above to compare with the after shots below. Looks like a new guitar!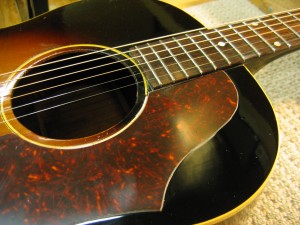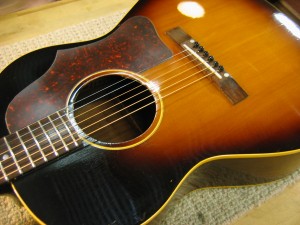 That's a protective film on the new tortoise shell pick guard giving it a dulled appearance here. It peels off easily to reveal  a shiny surface and a fit that perfectly matches the old pick guard's "footprint."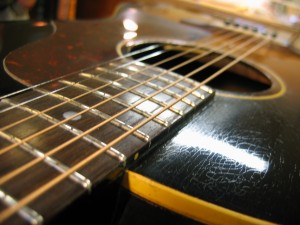 The newly leveled fretboard and new frets, reset neck, and comfortable playing action.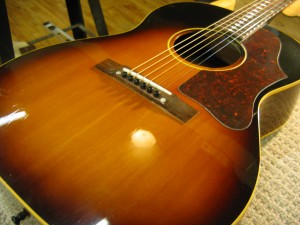 Thanks again for the before photos Ronald!