This Martin guitar took a serious fall, snapping the headstock off completely. See how we made it look like it never happened while keeping every bit of strength it had before.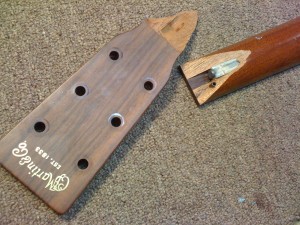 This is never how you want your Martin to look. But if your headstock does break off, you'd like to at least see a long break like this one with plenty of lateral gluing surface. Modern wood glues work their way into the pores of the wood, fusing them together again with incredible strength. Some repair shops take the approach of cutting away some of the wood and inlaying a dowel or a new piece to splice the two sides together. There are times when this is called for, but we try to avoid such measures whenever possible because it breaks and cuts even more of the wood fibers. If it ain't broke don't break it!
Before applying any glue, we used molding plastic to create a protective caul that fit the exact shape of the headstock. This will keep the clamps from crushing the neck while still applying enough pressure to actually heal the break. Once we have a perfect fit, we apply the glue and clamp it back up.
After the glue is dry and the clamps are off, we apply a small amount of colored finish over the break line. Then we carefully draw in dark grain lines to blend in with the rest of the neck.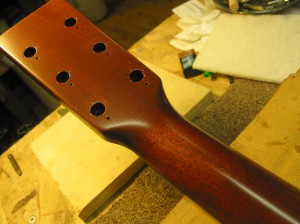 The break is now completely invisible…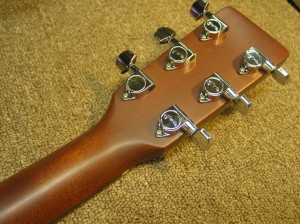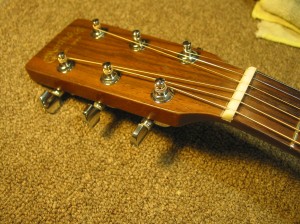 …and strong as nails. We guarantee this repair will hold until the next time it gets dropped and hits the ground (hopefully never again!)