Sometimes we have to get a little creative with refinishing. Here's what happens when someone wants an unusual color for their guitar.
We had a couple of unusual projects recently that required some creative work with color. The owners of both this 70's Fender Precision Bass and a modern Gibson SG knew they wanted to refinish their instruments, but wanted to do something a little more unique than just choosing a standard Fender or Gibson color.  Interestingly, both ended up with colors more reminiscent of  vehicles than other musical instruments.
The bass started out with a stripped body. It was a Precision Bass that had been routed at one time for an EMG Jazz pickup and a battery compartment on the back.  We filled both routs  and sanded them smooth to fit the texture of the rest of the body.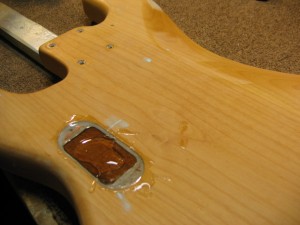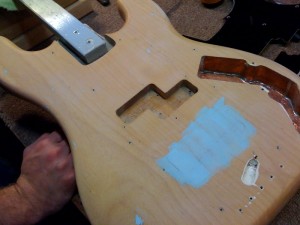 For our custom color, we improvised a sort of 'Granny Smith' flavored candy apple. It looked a little odd to the two of us on a color sample stick, but our customer loved it and said to use it. By the time it was put together with the original pickguard, pickups, and a new Leo Quann Badass 2 bridge, we were totally convinced he was right. It received a unanimous thumbs up from all parties. It matched perfectly with an owl strap from Chicago-based Souldier Straps.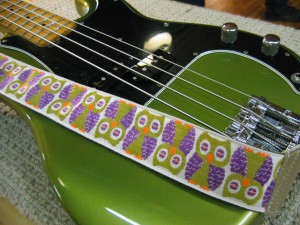 After staring at this bass for a while, we figured out what it reminded us of: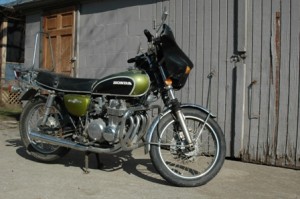 A 1973 Honda CB500!
Next up is a late model Gibson SG that came in almost completely stripped of it's original cherry finish.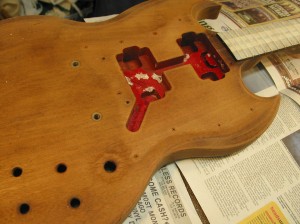 The owner has a vast collection of green guitars and wanted this one to join that group. He asked us to match the color on a dark metallic-green pool cue and to inlay stars for the fretboard markers.  The new inlays required removing the frets so we could eventually smooth and level the entire fretboard.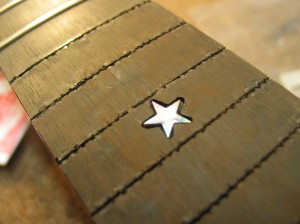 Next we prepped the mahogany body for finishing by removing all the old paint and applying grain filler to the pores. This will insure that even a very porous wood like mahogany will have the smooth-as-glass surface look that we want.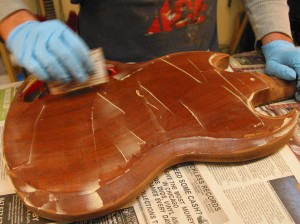 After matching that green pool cue's color and applying top coats of nitro, this SG is uniquely beautiful. Check it out.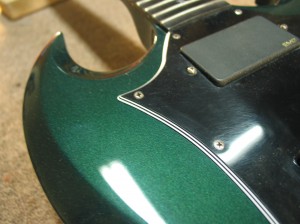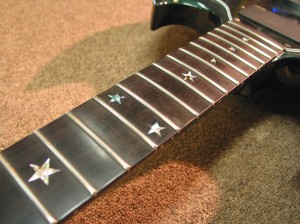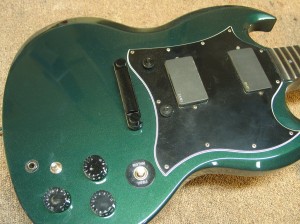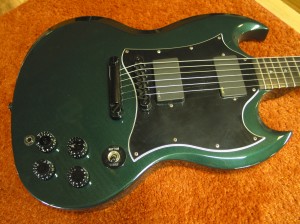 So where did we find that killer racing green finish? From Porsche!