A great reason to check out estate and garage sales. You never know when you'll find a 1950's Epiphone Devon archtop for a song!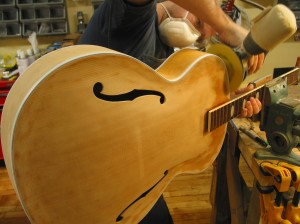 Here's a project with humble beginnings that grew into a full vintage restoration. The owner picked up this very old Epiphone Devon at an estate sale (along with several other groan-worthy items I won't even tell you about.) It had been rather sloppily stripped and refinished and the binding had entirely peeled off. Initially, we planned only to add the binding to the body and unfortunately didn't bother to take pictures. So the photos here begin after the new binding was already in place, when the owner decided he'd like it completely refinished to look like it did originally. It was a good decision.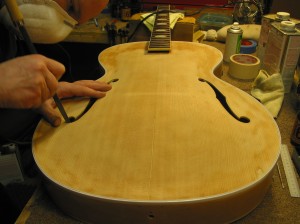 Here, Dan prepares the body for finishing. The previous finish job was topped off with some white paint or nail polish inside the F-holes, an apparent attempt to make the holes look bound. Based on some good photos of a Devon in its original condition, we decided to clean off the white paint and leave them unbound. After sanding away the old shellac or varnish, Dan sprays a sealer coat, taping off the fretboard.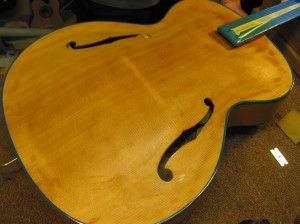 Next comes the sunburst on the top. Below, he scrapes the dark brown finish off the white binding by hand.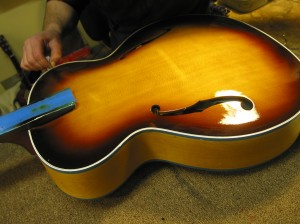 Then full darkening of the back and sides and a vintage amber top-coat.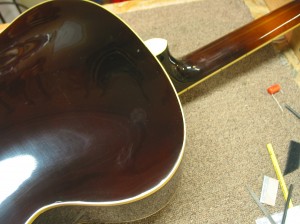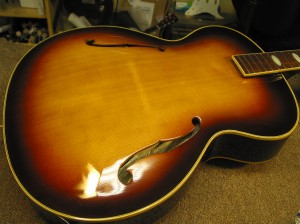 Once finishing is complete, the new binding blends in and looks beautiful.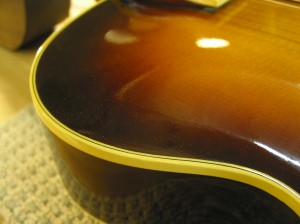 The final product fully assembled.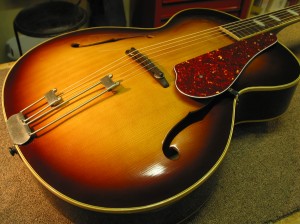 Originally, a Devon would have had a thick and fully-bound tortoise-shell pickguard. Since a hand-made bound guard would have cost $300-400, we opted for a more affordable 3 ply tortoise reproduction. The shape is right and the white middle layer gives a satisfactory illusion of binding.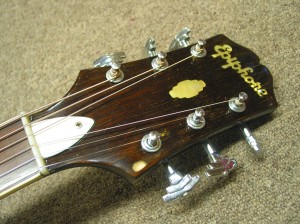 The original tailpiece and bridge and some period tuners made the whole thing look just right.  The thin lacquer finish helps bring out this guitar's full, rich tone. A real beauty.