This Les Paul looked very different when we were finished with it.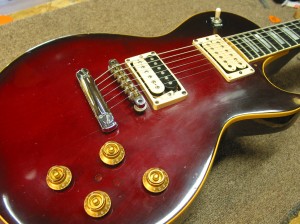 This late 60's Les Paul Deluxe has had lots of work done to it over the years. Its original P90 or mini-humbucker pickups were removed and replaced with full size humbuckers, it has had mini toggle switches installed and removed, and its original gold top was refinished as a burgundy shaded burst. The current owner discovered that a hairline crack had appeared in the top, extending from below the tailpiece all the way into the neck pickup cavity. He asked us to repair the crack and refinish it to it's original goldtop color.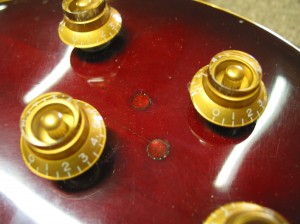 These two small holes between the control knobs probably once housed coil tap, phase, or series/parallel switches.  They've been filled, but are still completely visible.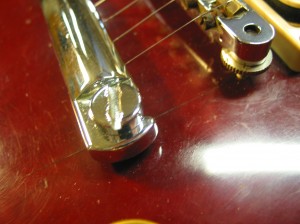 The body crack is barely visible – running through the tailpiece and bridge post holes and continuing all the way into the neck pickup cavity. To make the repair really look right, we knew we'd have to refinish the top. First, we completely strip away the old finish.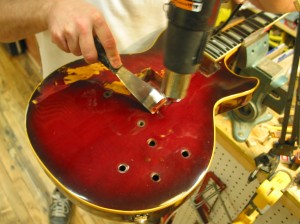 This close look at the pickup routs shows the original P90 routs, widened to fit full size humbuckers and (if you look closely) some remaining patches of the gold finish it once had. We opted to stay with the current humbucker pickup arrangement but to restore the gold finish. The one electronic alteration  we made was to wax-pot and cover the pickups.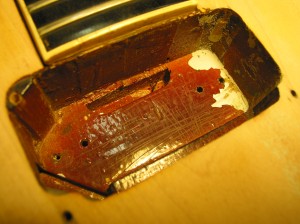 Here's a better look at the body crack after repair.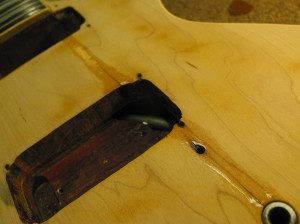 The refinish begins with sealer and white primer coats.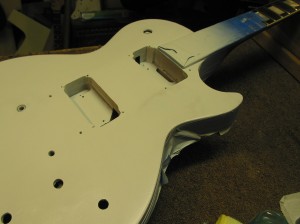 Then that distinctive Gibson gold-top. Here we peel away tape that kept the gold paint off the edge binding.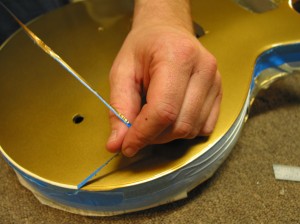 After amber top-coats and some light relic touches, it's starting to look the part again.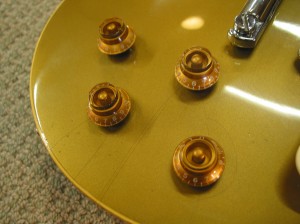 Once the work is complete, there's no evidence of the body crack or switch holes anymore. It's just another great looking Gibson Les Paul Gold-top.