Keep looking folks. There are still great old guitars hiding under beds, in closets, and in basements. This one was abandoned in the basement of an apartment building and while it showed up in rough condition, it went home looking and sounding terrific.
This is one scary looking headstock break. The headstock is completely off the neck and with a close look, you can see that someone attempted to repair it with both glue and wood screws! If you do that glue-up right the first time, there's no need for the screws (which didn't hold anyway.) The dry glue poses a problem because it seals the broken cells of the wood, making it impossible for new glue to do that.  And that's just the beginning…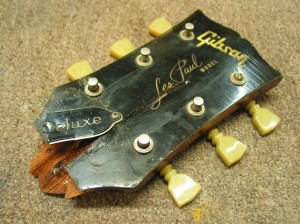 Here's a close look at that original "repair."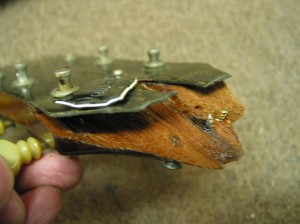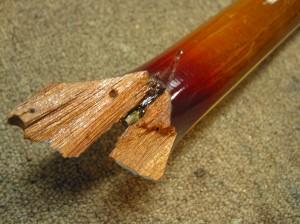 But there's more problems here than just the headstock break. These frets are loose, worn flat, and covered in tarnish. They'd need to go too.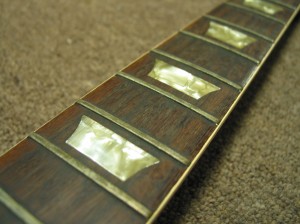 Some heavy water damage at the base of the guitar tells us that this once proud Les Paul probably spent a lot of time in that basement. But the wood is still strong and repairing the finish is at the bottom of our priorities on a repair like this.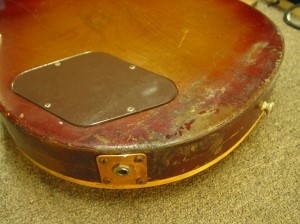 The owner gave us the go-ahead to attempt regluing the headstock.  We"ll use a heavy-duty wood epoxy and cross our fingers. If it holds with some strength, we'll continue with the refret, touch-up to the headstock, and put it all back together.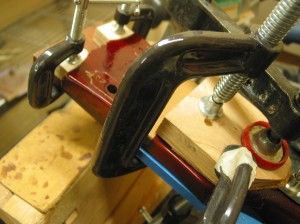 The epoxy held fast (we tested it under string tension for a week to be sure.) So we began filling it the areas where wood had gone missing.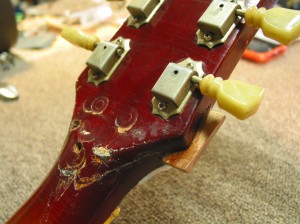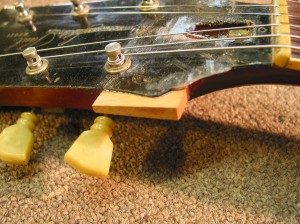 And got to work replacing the old and worn-out frets. We planed the fretboard to clean it up and to insure a level playing surface for the new frets.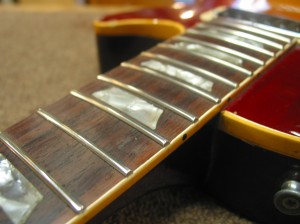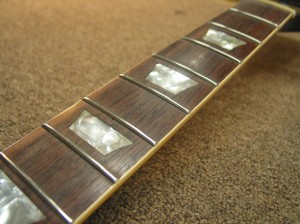 Now we're ready to touch-up the area of the headstock break, blending it in with the original sunburst finish.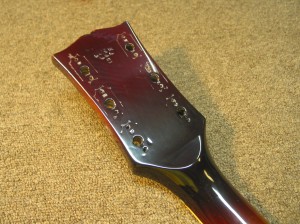 A little clean up of the top and this is starting to look like a real guitar again.
We replaced the rusted and twisted old bridge with a new nickel bridge from TonePros (keeping the original in the case of course.)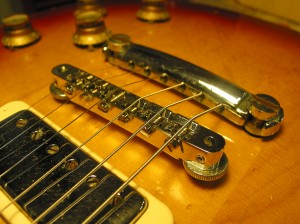 A fresh set of strings and we were ready to try this beauty out through an amp!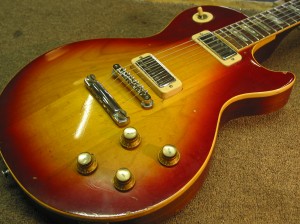 The vintage mini-humbuckers sound great!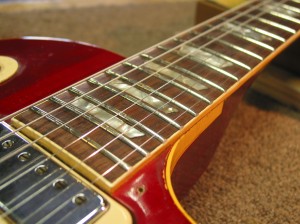 This was a fun rescue to perform. It's always rewarding to bring a guitar back from the grave and have it turn out this nicely.