These two basses launched more conversations than any others that have hung on our walls.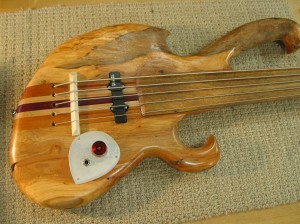 We see a lot of interesting guitars around here, but it's pretty rare that we see something we've truly never seen before. But a customer recently brought in two fretless basses that stopped us in our tracks. How can we describe them? –Unusual? Rough-hewn? Quirky? The woodworking is quite good at times and, um, hurried and homemade looking at others. They seem to be made from a combination of  exotic wood species like purple heart and odd driftwood-looking domestics.   Both instruments buzzed quite badly and required heavy fretboard leveling. But once that was done, it became evident that the builder had done something right. They actually sounded great and the owner was soon using the 5 string, which he nicknamed "Big Nasty," in a recording session.
The pricetag for both of these USA handmade instuments? Less than $500 apice! The manufacturer? A North Carolina maker called Wishbass. Take a look at more photos below and see what you think.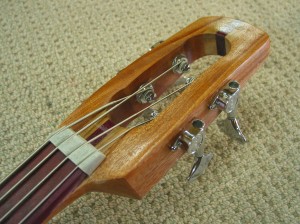 A singe passive pickup is wired directly to a volume pot and output jack.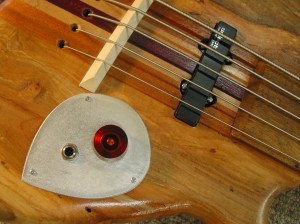 Here's a second bass, this one a four string model.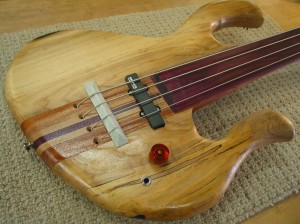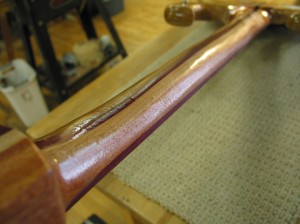 The woodworking is again, hit and miss…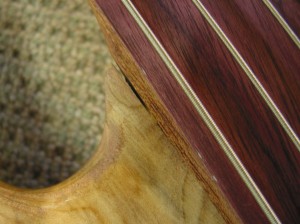 The finish has a drip or two… or three…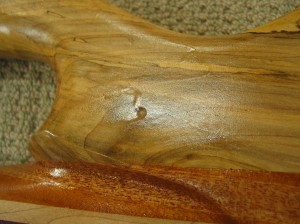 In an era where lots of instruments look the same and most are cranked out by the thousand, these one-of-a-kind basses were kind of refreshing to see. And  for the entry-level pricetag, they're sure to appeal to some. The owner of these two just bought his third on eBay!  What do you think?