Three years ago, Steve and Dan opened a one-room guitar shop. This summer we doubled the size of  the shop and welcomed two new faces to Chicago Fret Works.  Allow us to introduce Joe Swierupski and Patrick McKeever.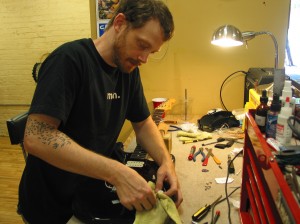 This winter, we found ourselves stepping over guitar cases and telling our customers that a set-up would take more than a week.  It was time to get some more space and some help. Luckily, the space adjoining ours became available and we decided that if we didn't take it now we'd probably regret it down the road. It happened to be big enough to house an amp repair station too.
Around the same time, we received a resume from Joe Swierupski. He's worked for Fender and Gretsch and was an acoustic guitar building instructor at Arizona's Roberto Venn School of Lutherie before relocating to Chicago this summer. He brings a deep understanding of guitar construction and customer service and we're pleased to have him on board.
The new space also created an opportunity to expand our services to include amplifier repairs. Patrick McKeever has been repairing and customizing guitar and bass amps at Chicago's The Music Store since 2000 and now joins us as the lead technician at Chicago Amp Works. He has been a fixture on bass in the Chicago blues scene for years, backing up many of the city's biggest artists. Patrick also builds beautiful all tube amps under the name Sweet Amplification. He loves helping musicians "find their tone" – the one they've been imagining.
So there's some big changes.  We look a little different here, but it's all with an eye toward better serving our customers. There's more plans in the works so keep checking in!