After a serious fall – or more likely, several serious falls – this Paul Reed Smith ended up on the auction block. Here's how we rebuilt the headstock and got it ready to rock again for the new owner. – This repair is becoming quite a specialty of Dan's!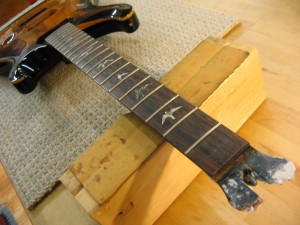 So you broke the headstock off of your nice Paul Reed Smith? No problem, just bring it in and we can reglue it for you. Just make sure you don't try to slap it together yourself with bondo or plaster or …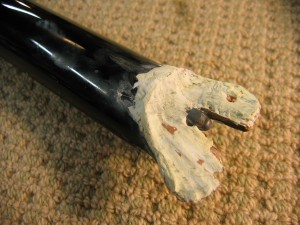 …Oh no! Yikes. This is ugly. And it obviously didn't hold.
And there's a major body crack too. This PRS is going to take a lot of  attention if it's ever going to play again. It'll take grafting on a new headstock and re-gluing that big crack at the body.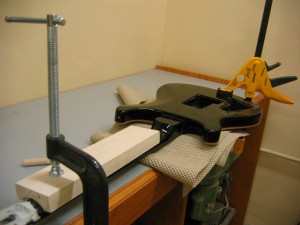 The body crack is where we start- gently applying enough pressure to open it, inject glue, and clamp it shut.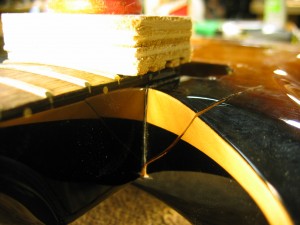 Once the body is glued up, we move on to the neck.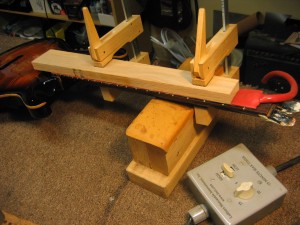 We need to graft on an oversized piece of mahogany using a scarf joint. To make sure the string tension pulls the new joint closed rather than open, we need to remove the fretboard, cut the useless piece of the neck away at an angle opposite the break, then attach the new section.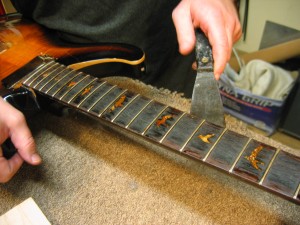 After heating the fretboard (don't worry the discoloring of the inlays will sand away later,) Dan uses a modified putty knife to remove the fretboard. He then pulls out the truss rod, to be re-installed in the new headstock.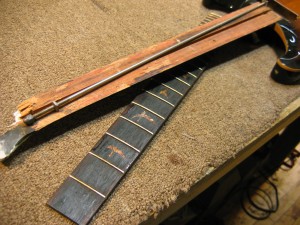 Next, he carefully saws the end of the neck off, creating an angled scarf joint.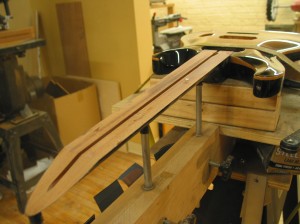 He rough cuts the new headstock from a block of mahogany…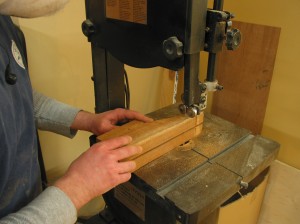 …and glues it into place on the neck.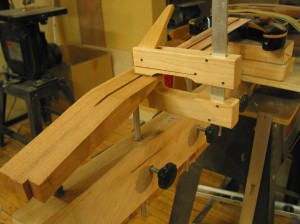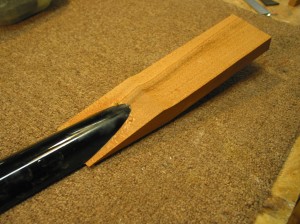 Once the glue is set, he hand carves the new headstock, using another PRS neck as a reference so that all the dimensions are perfect.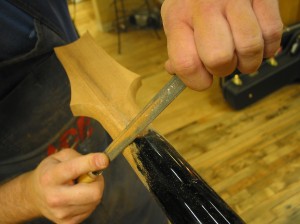 Then, he removes the old and worn frets, files the fretboard level and clean, and hammers home the new frets.
He drills the tuner holes, prepares the new wood for painting and over-sprays the whole neck and headstock area.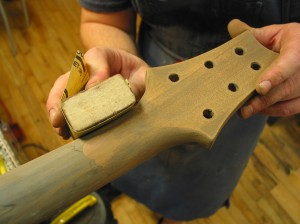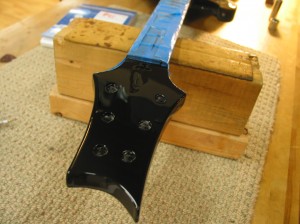 Since we had clear finish in the sprayer, we decided to go ahead and put a new coat over the body too to better mask the repairs on the top and make the whole guitar look uniform.  Here's Dan scuffing the finish before spraying.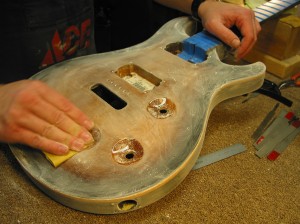 After applying a new logo and clear-coating the neck, it's time to put it back together again. Some PRS Dragon pickups, new hardware, and new wiring are installed.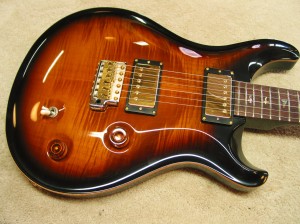 Finally, we give it The Works set-up and try it out. It looks great, sounds terrific, and ultimately cost the owner less than buying a new (or used!) Paul Reed Smith.