This Ampeg bass amp needed to get back on the road quick. Here's how we did it.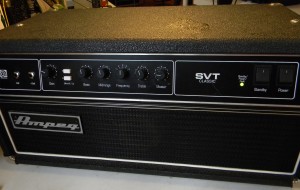 We got a Friday morning phone call recently from a band that was passing through Chicago when the bass player's Ampeg SVT Classic head started malfunctioning. There was all sorts of non-bass noise coming from it and they wondered if it was possible to get it back up and running for their gig at Lincoln Hall in Chicago the following night. Another technician had recently changed the tubes and the owner thought perhaps he was sold a bad set. He prepared himself to spend another $200+ on tubes. Pat has years of experience working on Ampegs and was not convinced that the tubes were the problem.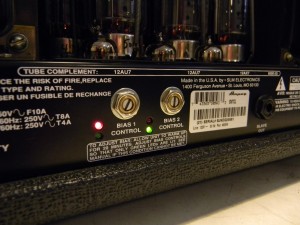 The SVT Classic has the unusual feature of a "user bias adjustment." That is, you don't need a technician to open up the chassis to make small adjustments to the amp's bias. You just adjust the trim pots on the back until a) the indicator light glows green and b) you like the way the amp sounds. On this amp however, Pat noticed immediately that one of the bias controls would not glow green at any position. It turns out this is not an uncommon issue with these amps and he knew right where to look first.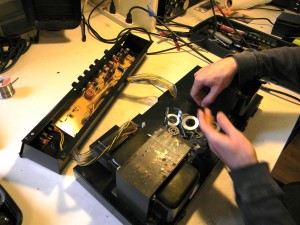 The power tube circuit is deep inside this amp and Pat needed to undo several handfuls of screws and disassemble this beast just to get to the components he needed to test.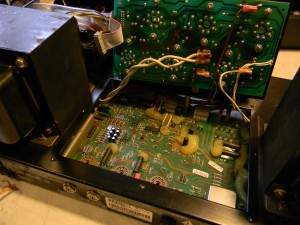 Once inside, Pat measured every component and discovered an open grid resistor on the power tube circuit board. He replaced it and put the amp back together to test.
There was no guarantee that the power grid resistor was the only problem, but it and the bias control was definitely not functioning properly.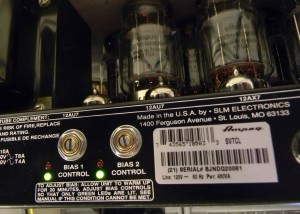 With the new resistor in place, the bias indicators both glowed green and more importantly, the amp sounded great again. It's now back on the road and laying down the bottom end with Sleeper Agent.