Here's a Gibson Les Paul Jr. that suffered a bad headstock break and a repair that was probably worse than the break itself!  It took undoing much of those old repairs, but we made it look right again.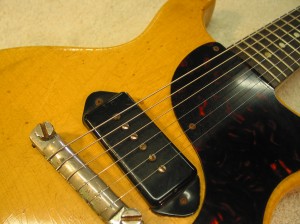 A client of ours spotted this TV yellow 1959 Les Paul Jr for sale at a pretty nice price. The body looks great with all sorts of natural wear and lacquer checking and it sounds terrific. But the back of the neck and headstock are another story. The headstock snapped at some point – not an unusual occurance for Gibsons – and was glued back together. Unfortunately, the repairman decided to strip the entire neck, refinish it in a greenish yellow that didn't match the body, and then stamp a serial number into the back of the headstock. As guitars of this period had only an ink serial number applied with a rubber stamp, not only were the cosmetics all wrong, there was a new crack that had formed next to the old one.
Our goal was to ensure that the neck was completely stable and looked correct for its age. Here's how we did it.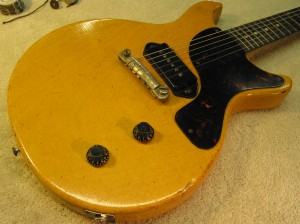 The owner loves the way the body looks and we have to agree. Obviously this  guitar has seen lots of use in its 50-some years.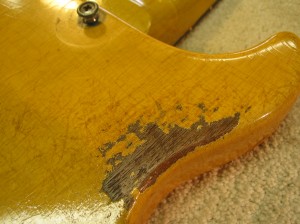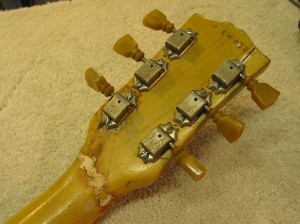 But here's that headstock break. A nasty one that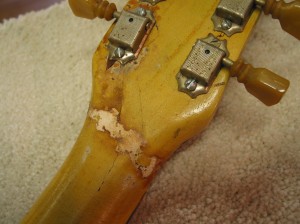 There's multiple fractures including one by the stamped serial number and … wait, this is a '59; they're not supposed to have stamped serial numbers. It should be ink. Yikes, another issue with the previous repair.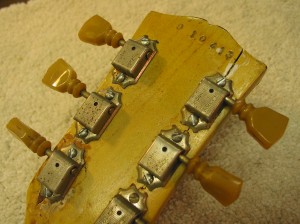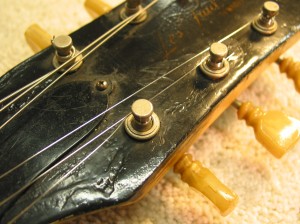 There's some poorly applied filler or putty that's pretty ugly looking. There are, however, some un-touched areas of the original finish around the logo. The owner wanted us to preserve as much of the original finish as possible, even if the new touch-ups looked distinctly different.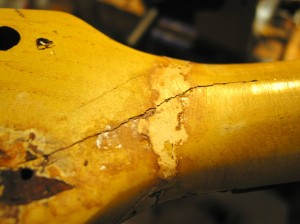 So we start by opening up the breaks that aren't solidly repaired and gluing them tight.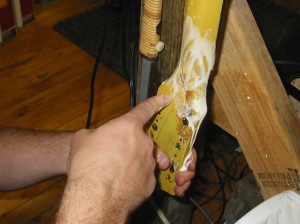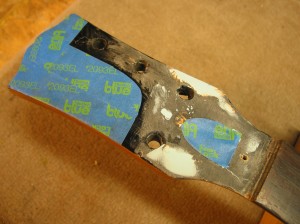 Next, we taped off the untouched areas of original finish so we wouldn't apply new paint over the old and change its patina.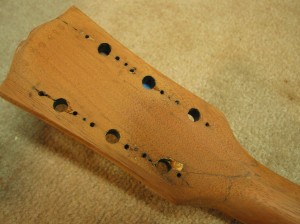 The back of the neck gets completely stripped and prepped for finishing.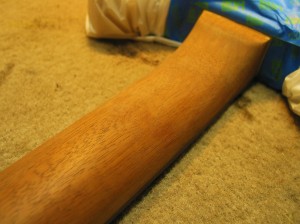 Next we fill and smooth the errant serial number and apply the multi-layered TV yellow finish, matching it to the body color.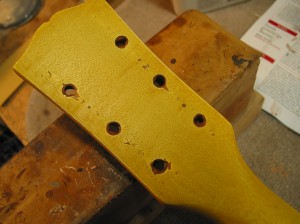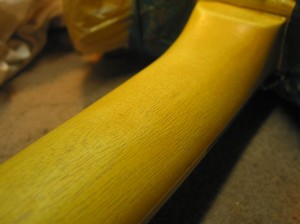 Then clear-coats of lacquer which have a slightly amber tint. Just a few coats until it matches the body.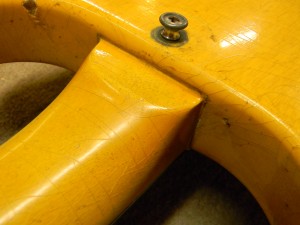 We distressed the lacquer to blend with the natural wear on the body. That's a newly ink-stamped serial number too. Turned out pretty nicely.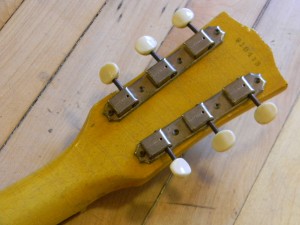 The old and new finishes will never really look as if nothing happened here. But they blended nicely and we preserved as much of the original look as possible.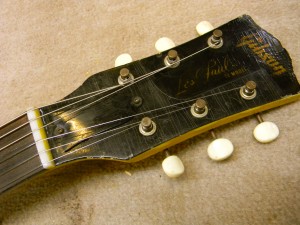 With to the owner's 1960 Les Paul Jr. which we previously repaired, this is quite a pair.