This is a striking example of Gretsch's famous Chet Atkins Model 6120 that we brought back to life.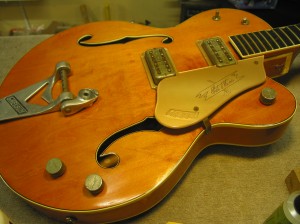 You've seen Chet Atkins, Brian Setzer, Eddie Cochran, Duane Eddy, Pete Townshend, and many others with this classic guitar. It's a 1960 Gretsch 6120 in that familiar orange. It arrived in pretty rough shape, with the neck very loose in the pocket and several missing pieces of hardware. The hardware was easy, but take a look at the neck reset portion of the repair.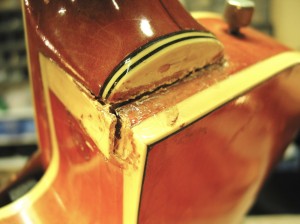 Despite the gobs of dry glue that tell us this guitar has already been "repaired," the neck was loose and wiggling around in the pocket. Hard to believe that didn't hold, right?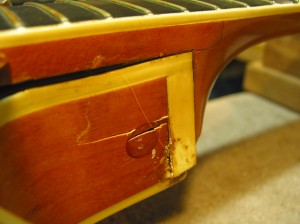 Part of the Gretsch neck joint is a wood screw driven through the side surface, into the neck tenon, and covered with a round wooden plug. Here we can see the stress that area has taken with the poor neck fit. It doesn't look like that plug has been removed before, so our investigative staff believes this one took a heavy blow at some point – enough to jar the neck loose but not enough to come out. The repairman tried wicking glue into the neck pocket to hold it firm, but that attempt didn't last.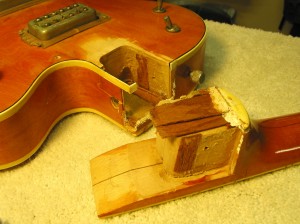 Once we removed the plug and screw, the neck came out without much trouble.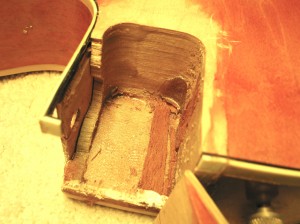 It's clear that the neck pocket or mortise was broken inside. The first thing we need to do is reinforce that area so a solid neck joint can be created.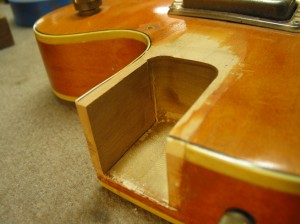 Once the pocket is stabilized, we can clean up the neck and glue it back into place.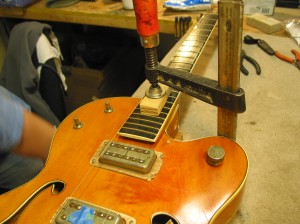 The single string on either side of the clamping caul, lets us know if the side-to-side angle of the neck is correct. Once it's just right, we apply the glue and clamp it solid.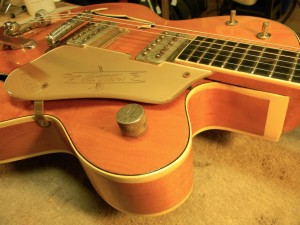 A new plug as well as a little touch-up to the side and binding area has this vintage beauty looking good again.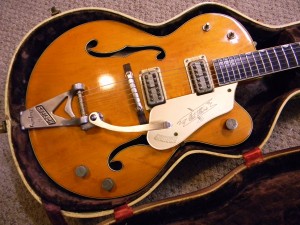 Ready to rock this town inside out, with a new bar, spring, and bridge  for the Bigsby vibrato.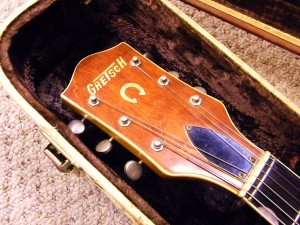 A beautiful old guitar, resurrected.