This is no "relic;" it's a 1964 Strat that just oozes character and … I don't know… music.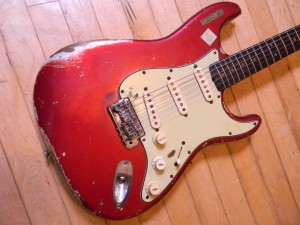 This guitar had everyone in our shop drooling. It's just beautiful. Candy apple red, rosewood fretboard, and beat to hell over the last 48 years of being played . The owner hadn't taken it out in quite some time and there were a few non-original elements. But the 1964 pickups sound perfect and the only thing we felt like it really needed was some new frets and The Works set-up. A refret can be tricky on post-1962 Fenders because they have very thin veneer fretboards. We kept the fretboard leveling to a minimum and got it playing like brand new – without changing any of its original vintage elements.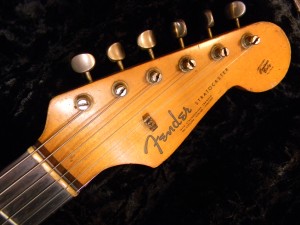 Now THIS is what you call belt-buckle rash!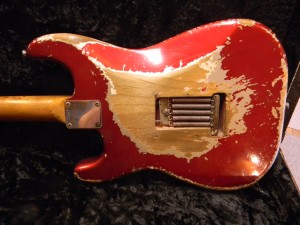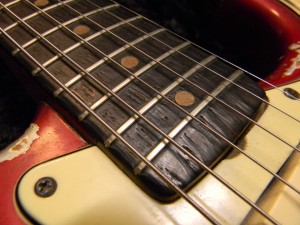 There's some deep wear on the rosewood fretboard and with it only being about 2/32″ thick to begin with, we decided to only smooth it out rather than plane it truly level. This is one of the toughest re-frets we ever have to do because of the sensitive vintage material and the lack of real estate to work with.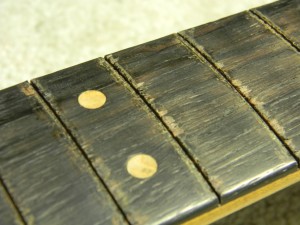 Frets are hammered in by hand – one at a time.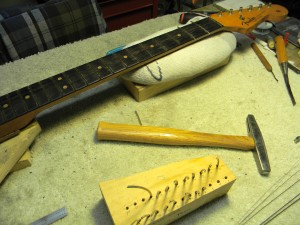 As we looked closer at the bridge, the replacement 80's era saddles (below) just looked out of place…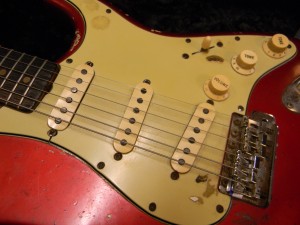 so we opted to install original style nickel Fender saddles instead (below.)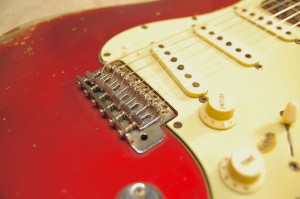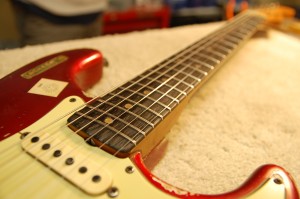 The new frets have this classic pre-CBS Strat playing beautifully, without altering the look at all.