Here's how we gave a modern Epi Casino a vintage look.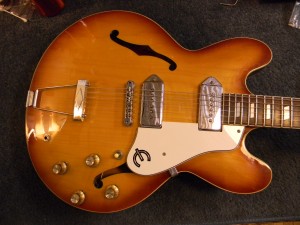 The owner of a modern "natural" finished Epiphone casino wanted it to look and feel like a vintage 60's Casino with a sunburst and lacquer finish.Epiphone uses a polyurethane top finish which dries like hard plastic. We needed to remove all of that poly, then prep and refin using vintage style nitrocellulose lacquer (or "nitro".) We also had our friends at Lollar Guitars build a new set of their P-90's into the original chrome-finished covers.  The end result turned out beautifully, but it takes a lot of work to get there.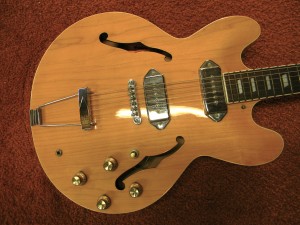 In it's original finish of clear polyurethane.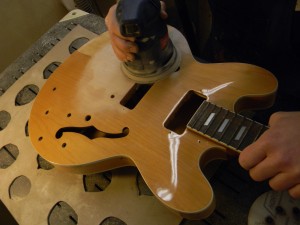 After removing the electronics, we shipped the pickups to Lollar to be rebuilt into their brilliant vintage-style P-90, then sanded away all the old poly by hand.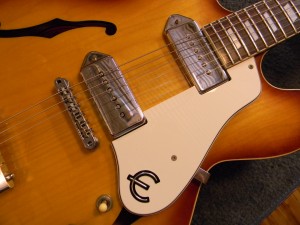 After re-assembly, this beauty looks, feels, and sounds like a new – and by that we mean old, guitar!