…or how Pat McKeever single-handedly saved Lollapalooza!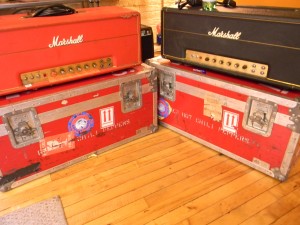 Okay, maybe that's overstating things a teeny bit…
August 4th, we got a call from the guitar tech for Chili Peppers guitarist Josh Klinghoffer that they were in need of quick repairs to a pair of early 70's vintage Marshall Major heads. The red Major in particular is a pivotal part of the RHCP sound and both it and the black backup head blew several fuses the night before they were headlining Chicago's Lollapalooza Festival. Pat quickly scoped each amp and determined that both needed new power tubes and some general maintenance so Pat was able to get them back in action quickly. If you're interested in seeing more of Josh Klinghoffer's touring rig, check out  guitar tech Ian Sheppard in Premier Guitar's Red Hot Chili Peppers Rig Rundown. Here's a few more pics and a video clip from that night.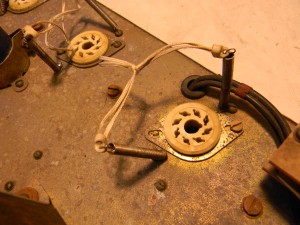 The power tube sockets were equipped with this unusual mechanism for holding the tubes in place. We now see metal retainer clips of various designs on most modern amps, but these nylon bands still do the trick just fine some 40 years later.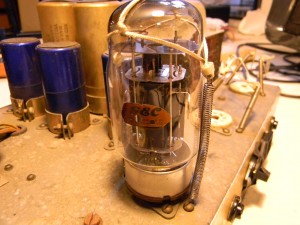 The old – and possibly original English GEC tubes had to go in favor of new ones, but they sure look  great.