August 17 marked the 35 anniversary of the King's passing. This Martin replica of his 1955 D28 is a great reminder of his fine taste in guitars.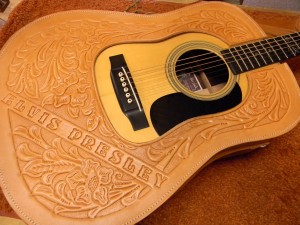 Not long ago, Elvis – or at least the actor who plays him in Chicago's Million Dollar Quartet – brought his guitar in for a new K&K Pure Mini pickup and a set-up. We've had the pleasure of working on guitars for Elvis, Carl Perkins, and Johnny Cash from the show and can not recommend it enough. Great music, played by skilled musicians who channel the pioneers of rock & roll like you won't believe.
This Martin D-28M happens to be the first of four prototypes made for that model. It sounds brilliant with an adirondack spruce top, Madigascar rosewood back and sides, and some of the coolest inlays you'll see. For the full technical specs – including the tooled leather cover, check out the
The inside label, reading Prototype # 1 of 4.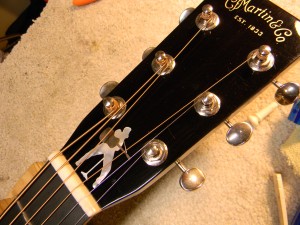 Headstock inlay.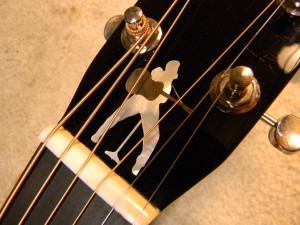 Autograph inlay at the 12th fret.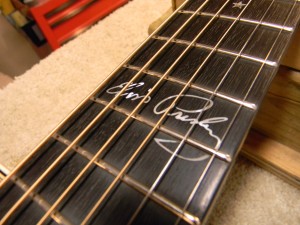 The iconic photo that inspired the headstock inlay.