This is the story of how a rough looking Craigslist find transforms into a beautiful Gretsch Princess.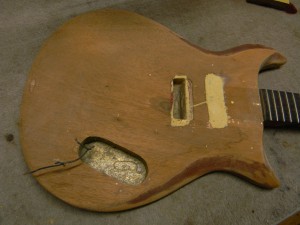 Once upon a time, a buddy of ours found a listing on Craigslist for a Gretsch Corvette "project." It turned out to be this body/neck that had been stripped,  routed for different and additional pickups, then filled in with a putty/paste, and eventually became another project that the previous owner just wasn't going to get around to. So our friend bought it and began thinking about what it could become. There was very little left of the "original" guitar apart from its structural components – neck, body, fretboard – and there were no breaks or egregious modifications to its shape. With a blank canvass to work with, what direction to go…?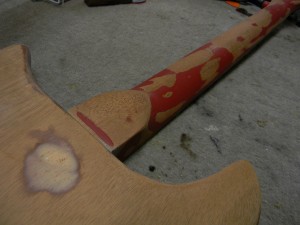 While most of the finish was sanded away, a bit of the original bright red paint remained behind.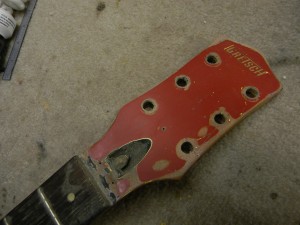 The headstock logo on the bright red background told us that this was probably not a cherry red Corvette, but actually the rare Twist model. It probably looked a lot like this one: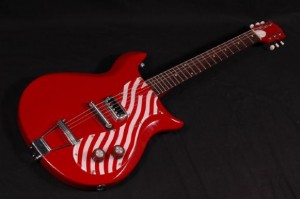 But in a search for old models online, this image below appeared and suddenly there was another option.  A history of the Corvette line shows that in 1962, Gretsch designed the "Princess" model, designed to attract young women to the electric guitar. There are some that were painted pink, some a creamy white with pink pickguard, but most were the off-white color with a gold pickguard and hardware seen below.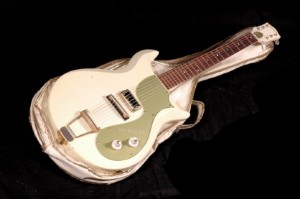 So this was the new plan. But we decided on some modern touches to improve its playability and sound to suit the owner's tastes. We would use a permanently affixed Schaller rolling bridge instead of the floating vintage style, add a Bigsby vibrato, and a TV Jones Classic Plus pickup. We started by planing the fretboard perfectly level and installing new frets.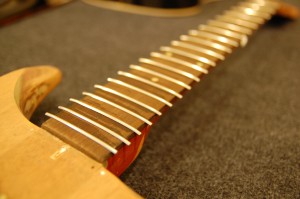 Then we re-shaped the old bridge pickup rout to fit the TV Jones size and shape, sanded and pore-filled the body, and added a clear plastic Corvette shaped pickguard and truss rod cover. We'll paint them gold on the underside.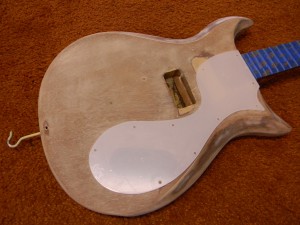 Then it was into the spray-booth. We worked off of as many online photos of original Princesses as we could find to get the color just right.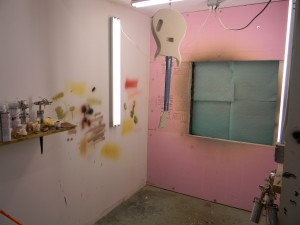 Fully dressed, this Princess is ready for the… Ugh! Enough with the Disney crap; it looks killer and sounds even better! The TV Jones pickup gives you a great range from almost Tele-like when lightly picked, to a nasty growl when you dig into chords a little.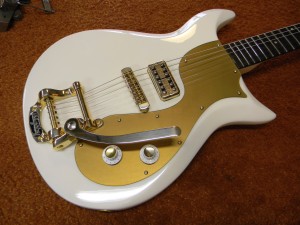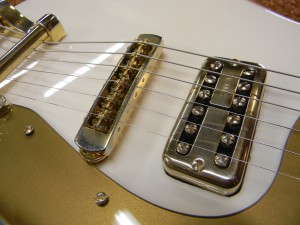 The Schaller roller bridge added sustain and power to the notes, while helping to keep the strings in tune with the new Bigsby B5 vibrato. At the customer's request, we dulled the finish slightly to take the edge off all this gold bling.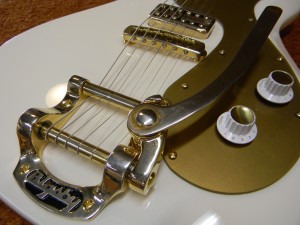 We have a great decal-maker who provides us with customized vintage logos that are spot-on perfect. We think it was a great call to go with the less-common Princess design for this restoration and the modern touches turned it into a great sounding players' guitar.