This vintage Strat survived the 80's, but just barely! Here's how we brought it back to it's original (looking) glory.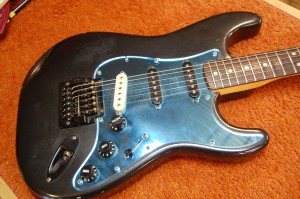 When you really think about it, it's a wonder there's any clean and unaltered guitars from the 50's and 60's anymore. With the style tastes we saw in the 70's, 80's, and 90's, it's kind of amazing that they weren't all converted into chartreuse, flat-necked, jumbo-fretted, locking-trem-equiped metal machines! Maybe if there were more guitar repair & refinishing shops around 30 years ago – when vintage guitars were called "used" or "old," there'd be even fewer to choose from. Compared to some craziness we've seen, this 1968 Fender Strat isn't too bad. It's been refinished and had the pickguard as well as some other parts replaced. But luckily, the owner held onto most of the original parts. He asked us to put the original parts back on, strip the black paint away and refinish it back to its original 3-tone sunburst, and bring it back to the way it once looked. Of course, one of the major obstacles to that is that the Kahler installation required a body rout that we'll need to make disappear.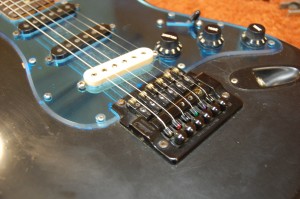 While we're at it, we'll want to fill the screw holes from the nut lock, and make it look as normal as possible without sacrificing all of the original finish and the headstock logo.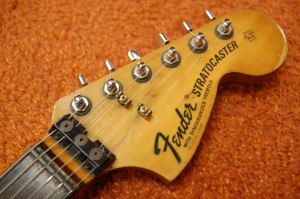 You might also notice the updated, non-original tuning machines. Those will have to go too.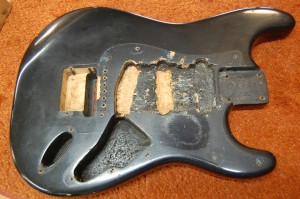 Once we removed the blue mirror pickguard, we could see the Kahler rout in all its glory, as well as some very rough modifications to the pickup routs. It looks like they were opened up to fit humbuckers at one time – and the work may have been done with a hammer and chisel! We made sure we cleaned up the pickup rout, before filling the more critical bridge rout and magically making it disappear.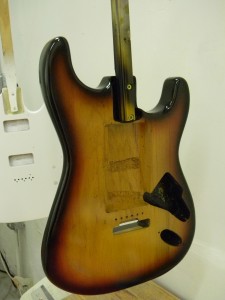 Looks pretty good, eh? The incredible vanishing bridge rout went away with the help of a hardwood plug – custom made to fill that hole, some opaque backing paint, and some deft work with drawn-in grain lines.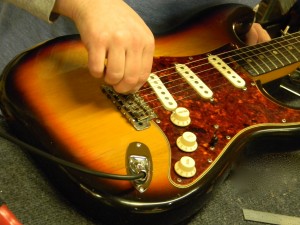 The original pickguard, tuners, and bridge went back in place, along with one new Lollar Special S bridge pickup, it's starting to look just about right. One aside about vintage pickguards – they shrink. We were lucky to get this one to fit pretty well, but recommend mounting one onto a spare piece of plywood or some scrap piece if you anticipate it being off for a length of time.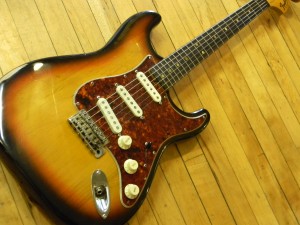 If you peek under the hood a little, it will be evident that this guitar is not in its original condition. But it's a lot closer after some careful work.
The 80's were pretty rough on lots of old guitars. But that doesn't mean they can't return to their original glory with a little help from Chicago Fret Works!