Folks are sometimes surprised to hear baseball games rather than music on our radio. It's definitely our other passion. The two worlds collide here, with this gorgeous La Cabronita style Tele that we built to be auctioned off at Cubs President Theo Epstein's Hot Stove Cool Music Chicago Event on June 21 at Metro Chicago! Baseball, guitars, and helping kids. Best triple play ever!
Since it's release a few years back, we've loved the Fender La Cabronita. It's got a Telecaster body shape with Gretsch style pickups by TV Jones. A great combination of classic looks and killer sound.
But we've loved and suffered with the Chicago Cubs for much longer. Let's estimate it as roughly our entire lives. Two years ago, our team brought in new president of baseball operations Theo Epstein – the architect of the Boston Red Sox teams that broke an 86 year drought between World Series titles, winning two championships. Since his arrival, he's brought vision and hope to our favorite team and there's something else we like about him. He plays and loves guitars. And twice a year, Theo plays in support of a great organization he co-founded to help lots of underprivileged youth – The Foundation To Be Named Later. (For the non-baseball-freaks among us, trades between teams – a big part of his job – often include a "player to be named later.")
So we got to thinking, why not build a La Cabronita, add some Cub images, and offer it to the FTBNL, to auction off at their signature event "Hot Stove Cool Music?" That's what we've done and here are the results!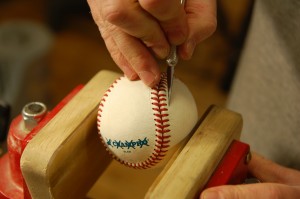 Dan created this handmade – one of a kind pickguard using actual baseball stitching.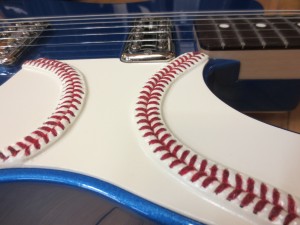 A neck (not actually) made from a (not actually) game-used bat!
A TV Jones Classic pickup in the neck, a Classic Plus in the bridge, with a stacked volume/tone control and 3 way pickup selector switch.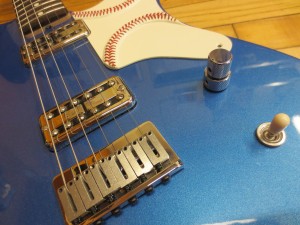 We've got high hopes that Theo Epstein & company can someday bring a title to Wrigley Field. We're also hoping this guitar will bring a huge donation to the Foundation To Be Named Later and that we see lots of you at the Hot Stove Cool Music Event on Friday June 21st at Metro Chicago. I've got a good feeling; as I write this, the Cubs are dismantling our crosstown rivals the White Sox 6-1, in search of their fourth straight victory. Could this finally be the year??