Getting Wilco's guitarist's favorite guitar ready to head back on the road. 
Hard not to be a little star-struck with this one. It's a 1959 Fender Jazzmaster belonging to Nels Cline (Nels Cline Singers, Wilco) that's now known as WATT. Nels got it from Mike Watt (The Minutemen, Firehose, The Stooges.) There's thousands of miles of wear, love, and music on that guitar and it wears its scars and gray hairs proudly. While it was once heavily abused on-stage, it's become Nels' most prized instrument and is vital to his sound – especially with Wilco. We were charged with getting it ready for some fall concert dates. We started with the electronics, and the pickguard. If you've seen Nels on-stage with Wilco, you've seen him yank the cord out of this guitar before grabbing a different one. Of course this puts some strain on the now 55 year old plastic pickguard and it eventually cracked in that spot.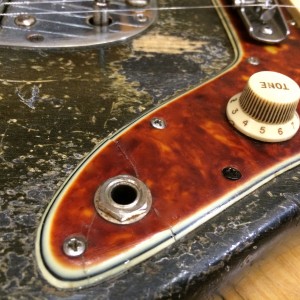 While Nels was happy to drill a couple of new screws into the guard to hold down the cracked tip, we wanted to at least see if it could be secured without more screws. It's supported underneath by  a steel shielding plate so a little epoxy held the pieces and the plate together neatly.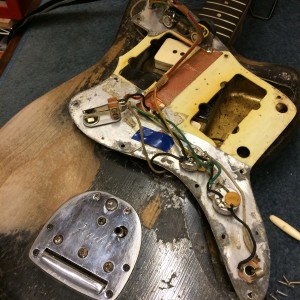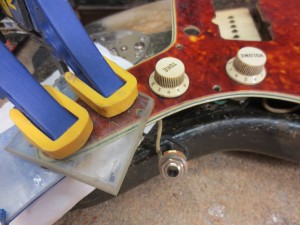 Once the jack area was strong and secure, we made a new bone nut…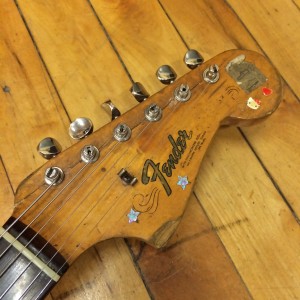 and freshened up the setup with a new set of GHS Boomer 12's. (There's three different spots where the previous owner inscribed his name on the guitar. One is below the original Jazzmaster tailpiece/ vibrato.)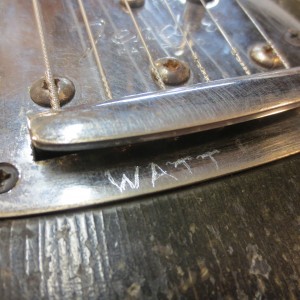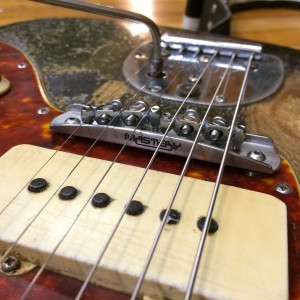 As with all of Nels' offset guitars, WATT employs a Mastery Bridge. In fact the Mastery was developed specifically for this guitar. If you don't know about this brilliantly-conceived bridge, take a look at their site and all the players who use it. Suffice it to say the Mastery solves virtually all of the quirky issues guitar techs have always had with Jazzmasters, Jaguars, and similar guitars.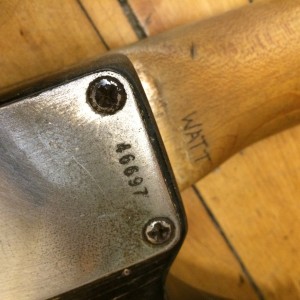 It was really enjoyable getting a chance to work on such an immediately recognizable guitar – especially one that's been through as much as this one.  And yes, it still sounds amazing.