Chicago Fret Works
Guitar Set Ups
Amplifier Repair
Amplifier Maintenance
Guitar Restrings
Custom Electronics
Fretwork and Refrets
Crack Repairs
Structural Repairs
Warranty Repairs
Neck Resets
Finish Repairs
Guitar Refinishing
Nuts and Saddles
Buzz Feiten Retrofits
Relic Service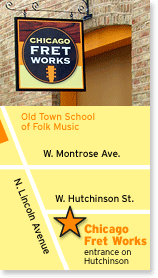 Craftsmanship. Experience. Customer Service
We will be closed

Saturday July 4th!

Have fun, be safe, and Happy Independence!
Guitar Repair — Chicago Style.
Established in 2008 by Dan Wolf and Steve Baker, Chicago Fret Works is your source for fine guitar, bass, amplifier, and fretted instrument repair service. From precision fretwork and set ups to custom electronics and refinishing, we do it all with the guiding principle of respect for both the instruments we work on and the musicians who play them.
Whether your instrument is acoustic or electric, bass or banjo, mandolin or ukulele, bouzouki or latin, new or vintage, we're finished with it only when you are completely satisfied and we'll always do our best to exceed your expectations.
No need for an appointment.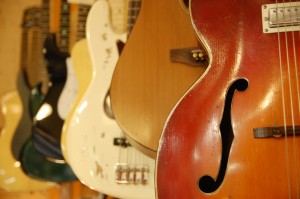 You can come in for an estimate or to drop-off any time during our business hours. We're conveniently located at the corner of Lincoln Avenue and Hutchinson Street
(entrance on Hutchinson next to The Big Cheese)
in Chicago's Lincoln Square / North Center neighborhood, just 4 blocks south of The Old Town School of Folk Music, and a quick walk from CTA bus and Brown Line train stations. We're just a few blocks from Lincoln Park, Ravenswood, Uptown, and Edgewater.
Watch us perform our most interesting guitar repairs!
It's more than a photo gallery! Pull up a chair at our
virtual workbench
and see how we do things. We'll restore a smashed vintage Martin acoustic, custom refinish a Gibson ES355, re-cap/tube and bias a vintage Marshall amplifier, and replace an entire headstock on a 1952 Gibson Les Paul.
Be sure to subscribe while you're there and we'll deliver a new journal entry to you from time to time.
Chicago has a first class music community.
It deserves a first class guitar repair shop.
That's why we're here.
Factory Authorized
Warranty Repairs