We reset the neck on this beautiful mid 30's Duolian for Wilco frontman Jeff Tweedy.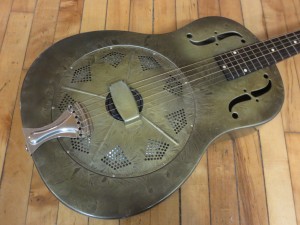 We've been privileged to do some work with Chicago's hometown heroes, Wilco. This National Duolian dates to the mid 1930's and is an interesting companion piece to our earlier post about a 30's National neck reset. A design feature that made that one especially challenging, is remedied in this model – with great results. This guitar was a bit of a surprise to us because one rarely sees resophonic guitars as part of a Wilco set. It was used quite a bit though while recording the new Jeff Tweedy-produced Mavis Staples record "One True Vine." . To play comfortably, it needed the neck angle reset and the biscuit bridge replaced, but Jeff requested that the modifications stop there to preserve all of the tonal characteristics that drew him to it in the first place. It's a rather dark-sounding instrument with a richer bass sound than lots of metal-body guitars. Beyond that, the green/gold finish is just beautiful to look at.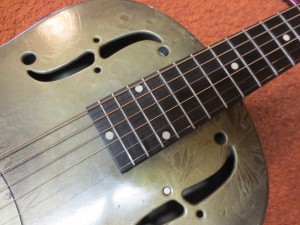 So back to that design characteristic I just mentioned – right? Take a close look at the F holes, and you'll notice that the edges are rounded or rolled – a metal working technique that stiffens the material considerably. This makes the top more stable and able to withstand the pressure and pull of string tension. The two steel supports that hang from the top at right angles (pictured below) help a lot too – replacing the earlier model's two wooden supports. All in all, it's a big improvement over the non-rolled design from just a couple of years earlier.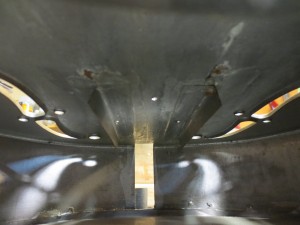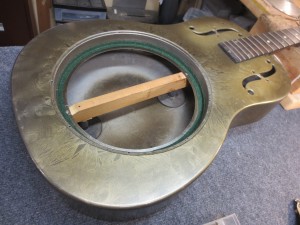 To reset the neck, we removed the resonator cone and neck – which is held in place by an extension stick that runs the length of the body inside.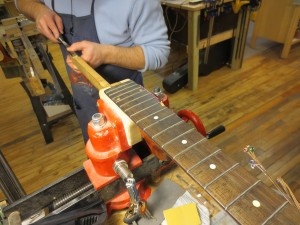 To kick the angle back to the correct spot, we'll need to carefully remove some material from both the neck stick (above) and the neck heel (below.)
Next, Dan installs a new National biscuit bridge. The original had been lowered to get the action more playable but at some point one runs out of bridge to lower; that's when it's time to reset the neck.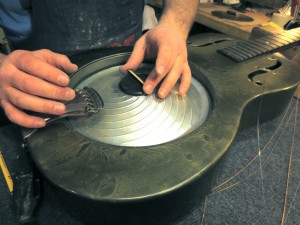 There's some stringing, unstringing, and restringing involved with getting the neck and bridge aligned correctly. When it's just right, the cover plate can go back into place.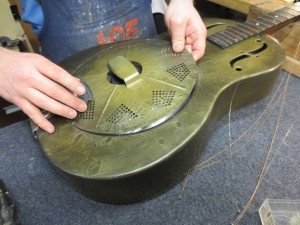 The playing action is nice and smooth now, with all of the warmth and depth that the guitar had before. Hopefully, Wilco fans will be hearing more from this guitar in the future!